We recently bought a new car and my wife wanted it to look like Marvel's Agents of SHIELD truck, so I made some personalized car badges with a secret UV light message hidden inside! So, come see how you can make cool and fun epoxy badges for yourself!
Our new car is a Chevrolet Suburban, it's really big and fits our big family. My wife wanted her completely blacked out to look like a secret agent or spy truck. I thought it would be great to make some custom car badges that would make the truck look like an Avengers SHIELD truck. That would be a pretty cool project on its own, but in keeping with the whole history of SHIELD vs. Hydra (spoiler: Hydra is secretly infiltrating SHIELD), I thought it would be even cooler to hide a Hydra logo on the badge.
We found the eagle from SHIELD and transferred the .svg image to the Glowforge laser cutter and cut out circular badges. After many iterations and colour combinations, I decided to etch the logo in a piece of shiny black acrylic and paint the non-eagle areas grey. With a collection of cool flat badges, we had to figure out how to hide a Hydra octopus in plain sight.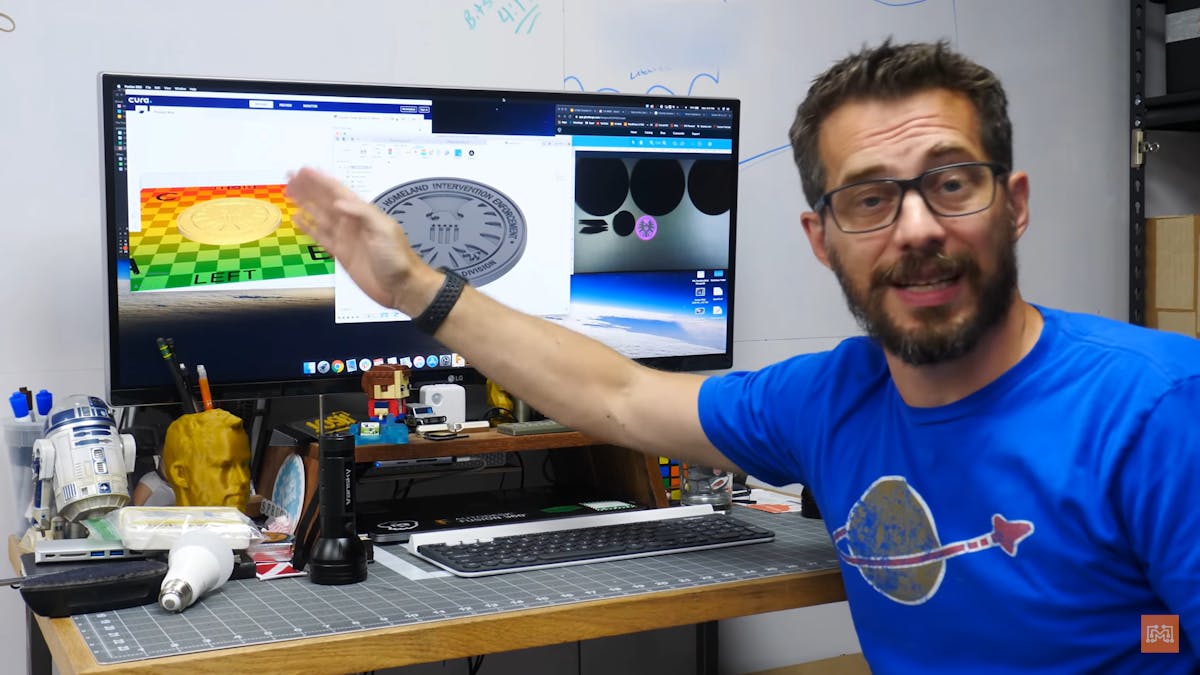 We found a red UV paint marker on Amazon that we could use to draw the logo on the black badge. This type of ink is only visible when placed under UV light. We had some UV flashlights from the SLA Cabinet project that worked on very well. To get a nice crisp UV image, I didn't want to try to freehand draw the intricate octopus, so we cut out the logo using our vinyl cutter. We could place the vinyl mask directly on the badges and use the marker to apply the hidden ink.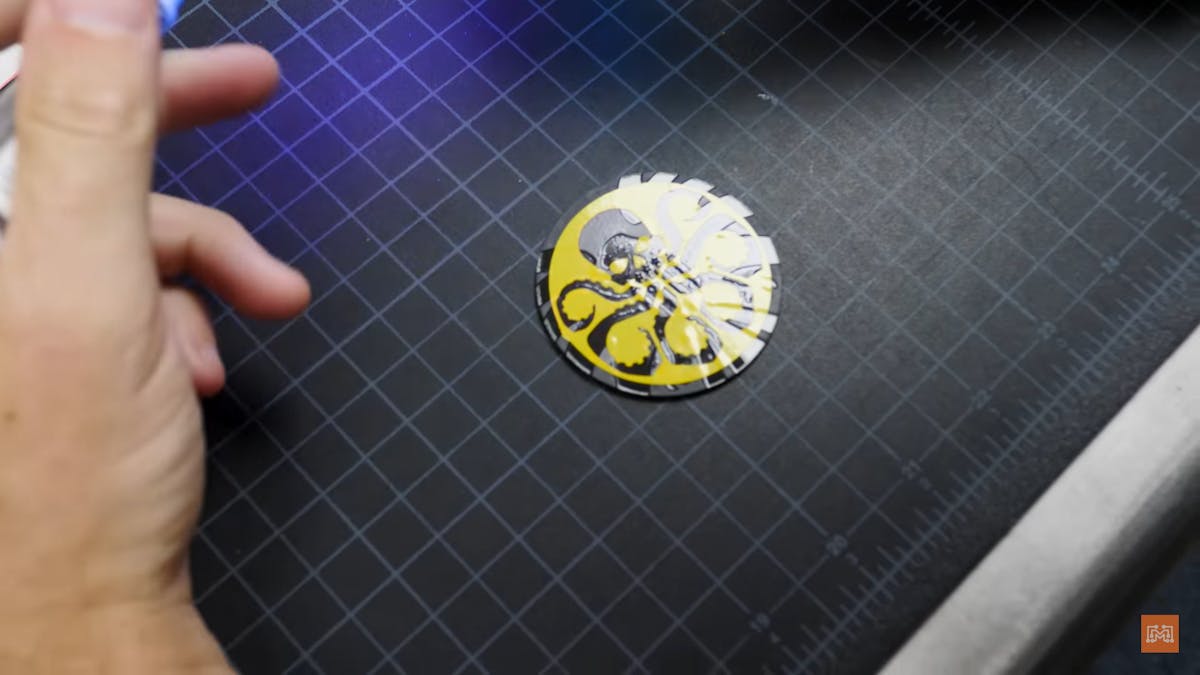 After taking off the mask I use the UV flashlights to check our work and I was so excited at how amazing it was! It was exactly what we were looking for. Without the light, you just couldn't see the Hydra logo, just the black and grey of the SHIELD badge. But when the light was applied, the bright red shone brightly.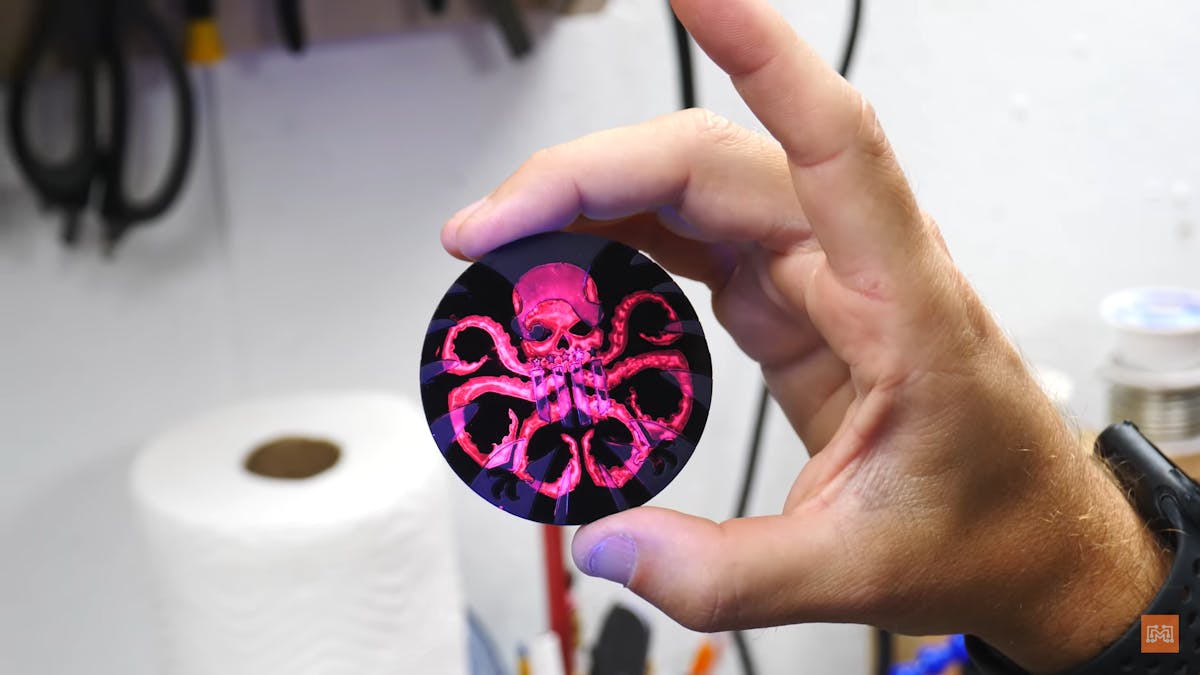 To make the badge a three-dimensional object, I wanted to make an epoxy cast on the top. Much like embossed or puffed stickers, epoxy can be applied to the top of a flat object to give it a raised, curved and protected exterior coating. At first, we tried using a flattened bulb silicone mould to achieve this shape, but it wasn't necessary. Just pour an even coat of epoxy over the badge (on a flat surface!)
To create this slightly rounded top. Once the resin was hardened, it looked amazing! I was really surprised to see that the red UV ink was now blue under the same UV light; it looked like a hologram.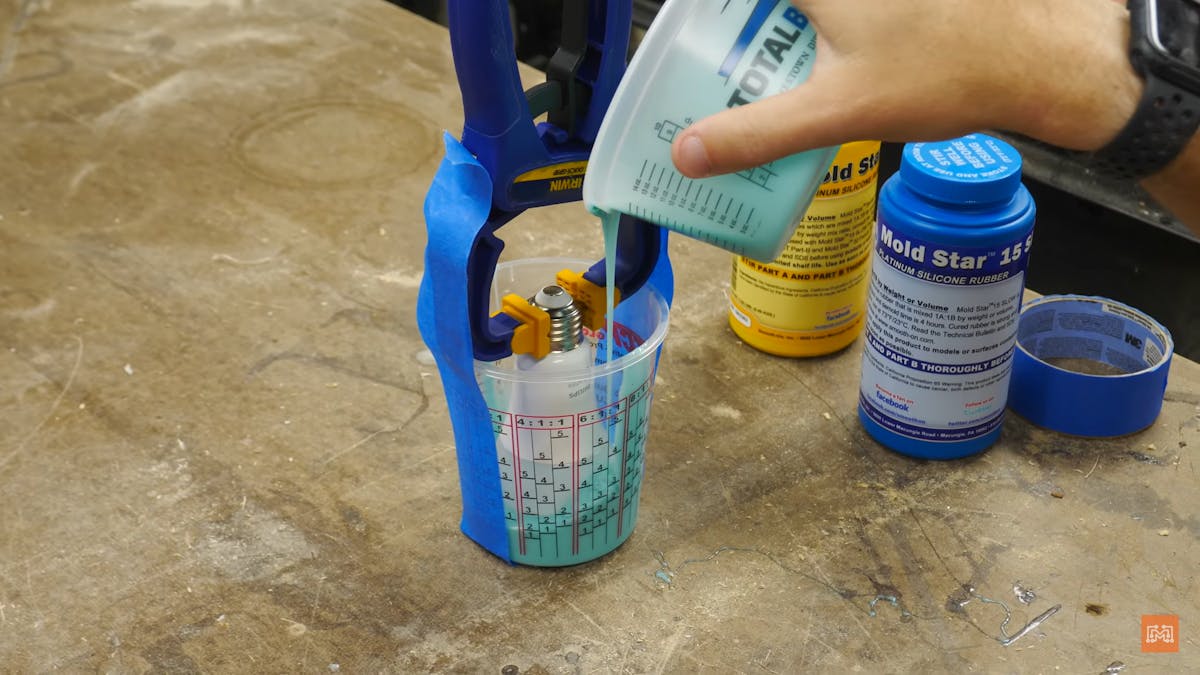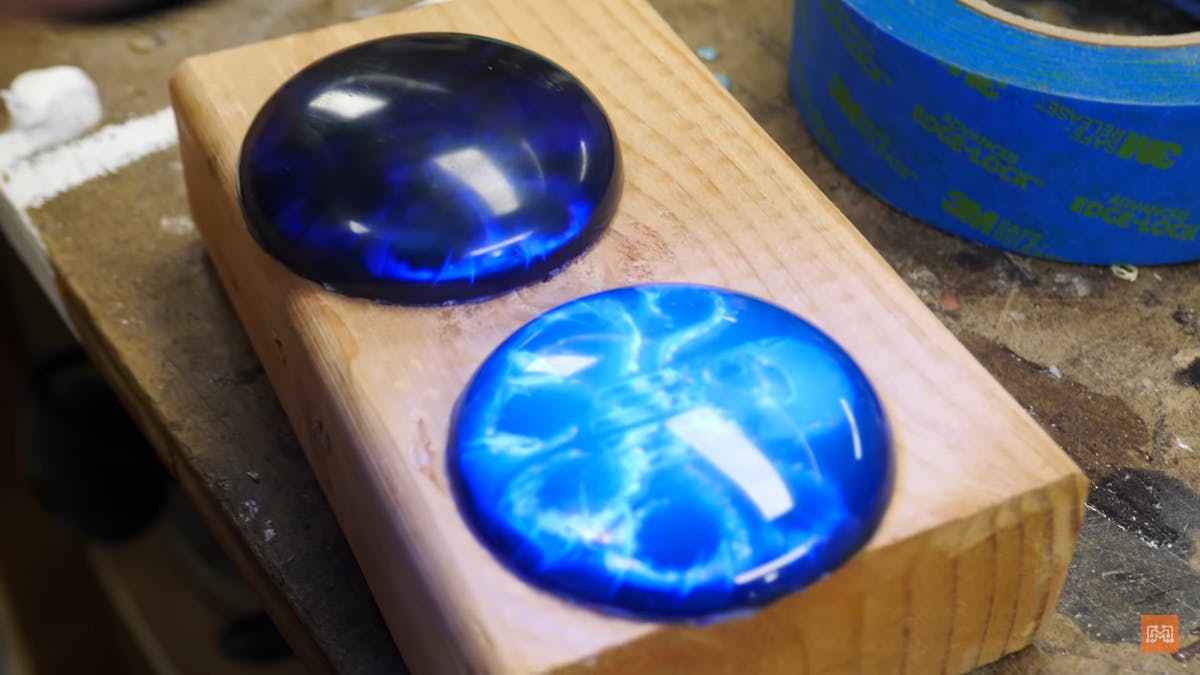 Once the secret epoxy badges were completed, it was time to place them on the truck. Some car manufacturers use special badges to indicate a special feature, "Trail Rated" or "Special Edition". Our new badges would have been much more subtle, as the secret agent cars should be. My wife decided that one on each front panel in front of the doors and one on the rear windshield would work just fine.
To glue the personalized nameplates from the car to the truck, I used 3M VHB tape. This tape is specially designed to withstand the elements and can be removed from the car without damaging the paintwork. Once applied, the truck looks great and the secret Hydra logo looks great in the sun!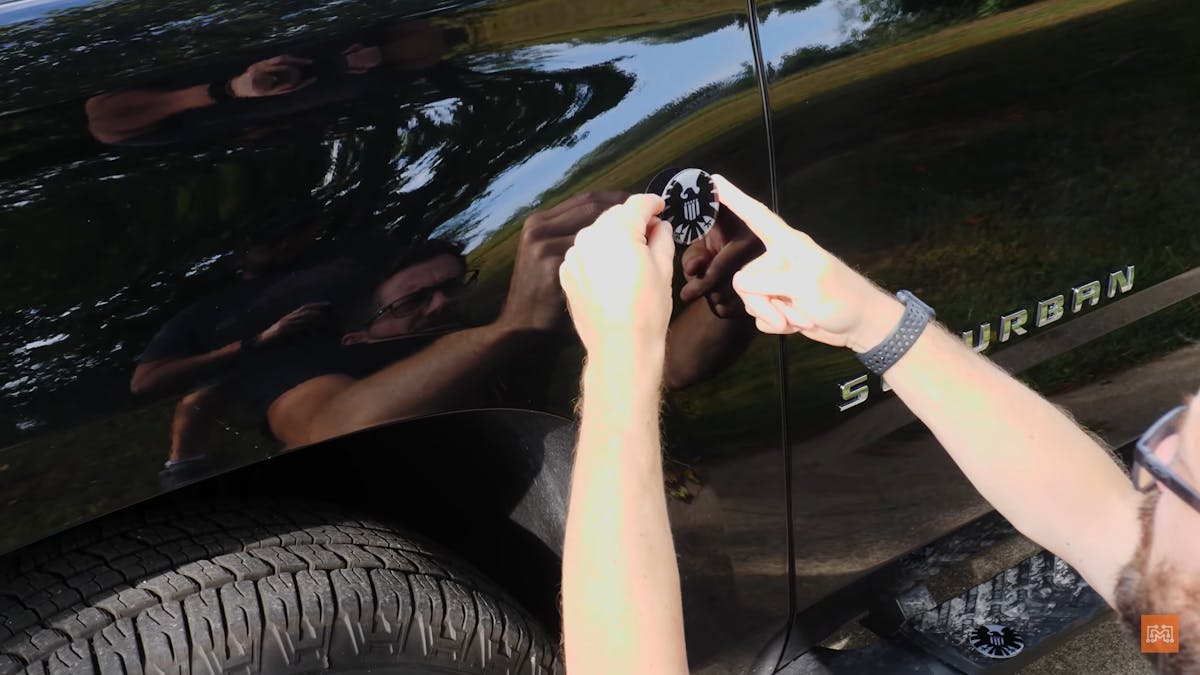 Making custom car badges is pretty cool, but having them reveal a secret message is fun. You might not need to go as far as we did on this project, but it was great to start with a fancy idea and find out how to make it work. Having a small reach into something big is really fun and very rewarding when it all comes together. It was an exercise in troubleshooting, trial and error, and iteration on a previous design. Give yourself something stupid to do and go through the iterative process until you're right.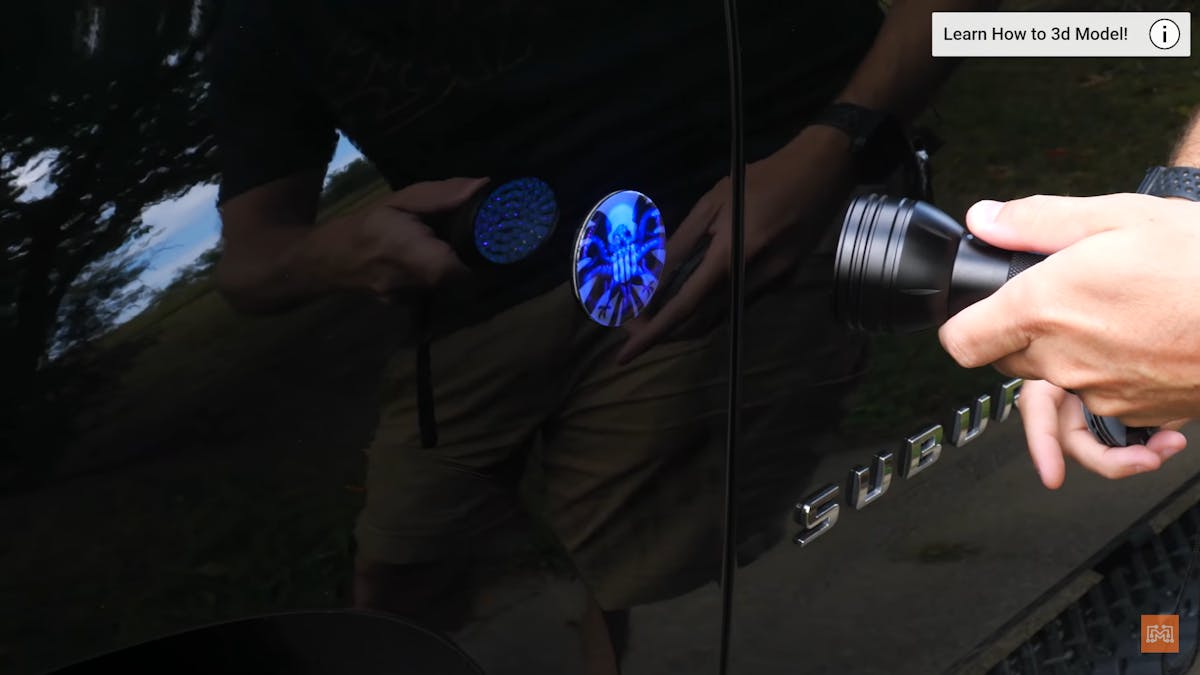 Subscribe to our Newslatter
Sign up for free and be the first to get notified about new posts.