DIY Geometric Concrete Planters
Who doesn't loves plants? 
They give such homey and calm vibes to just any corner of your home, they add uninteresting design elements while also manages to draw up the eyes. Your plants deserve the best, you want something modern and industrial without having to break your banks. It is quite hard to find pretty and modern looking planters for a good price. Even if you do find some they certainly might not fit in your budget. So in that case, today we're going to make some DIY geometric concrete planters that will lighten up that corner of your room. 
Supplies:
Quikrete Countertop Mix in White (to make the white concrete planters)
¾" Melamine (to make the forms)
Mold Star 30 (silicon mould making material)
Wood glue 
Putty knife 
Necessary Tools:
Glue Gun
Clamping tools 
Belt Sander
Cordless drill
Orbital Sander
Step 1: Preparing the wood
Here, we had some 2x6 planks that had a bit of rough construction and round edges so we can run them through the thickness planers a few times in order to flatten out the sides. If you don't have a planer you'll have to do just a little more sanding than usual, or you can also trim the edges with a circular saw or table saw. Then, we used a compound miter saw to cut the 2x6s to lengths, measurements are not as important as you can make these planters whatever size you want. The customization possibilities are endless.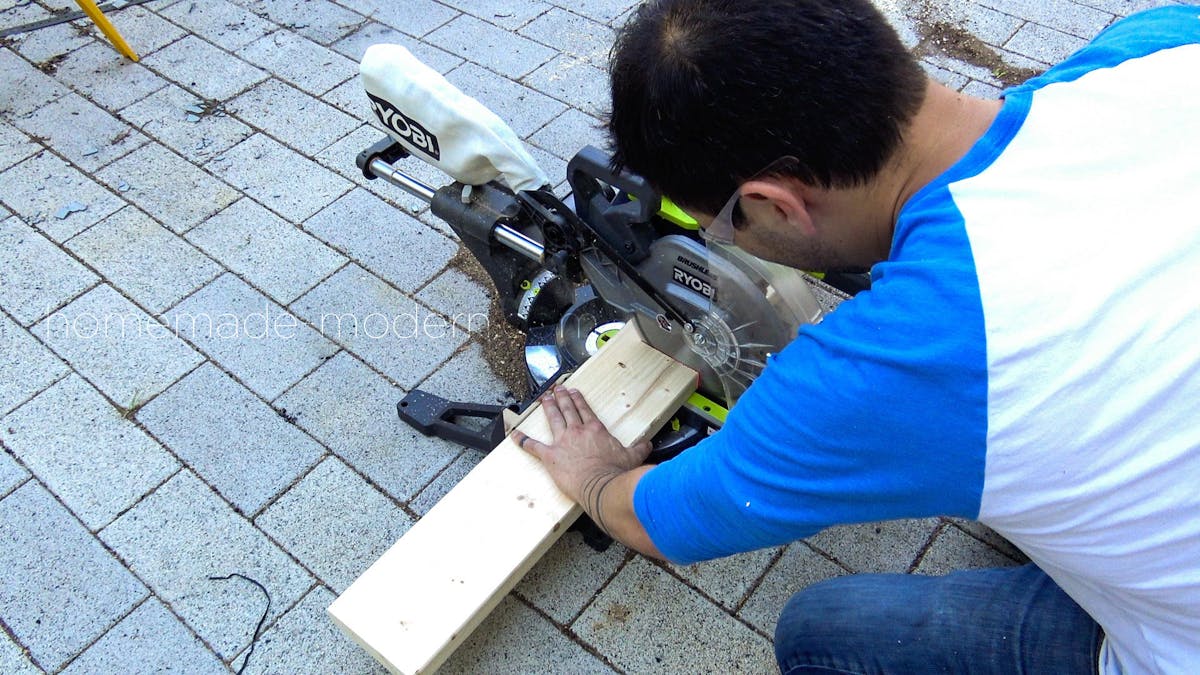 Step 2: Drilling big holes and glue the pieces together 
Next, you need to drill a pilot hole through the pieces of 2x6, this will give you a guide hole to drill a larger diameter with the help of a hole saw, here we have used a 3" diameter hole saw but again the measurements are all up to you. 
Now, line up the holes and glue all the pieces of 2x6s together by using some wood glue. And lastly, clamp them together tightly.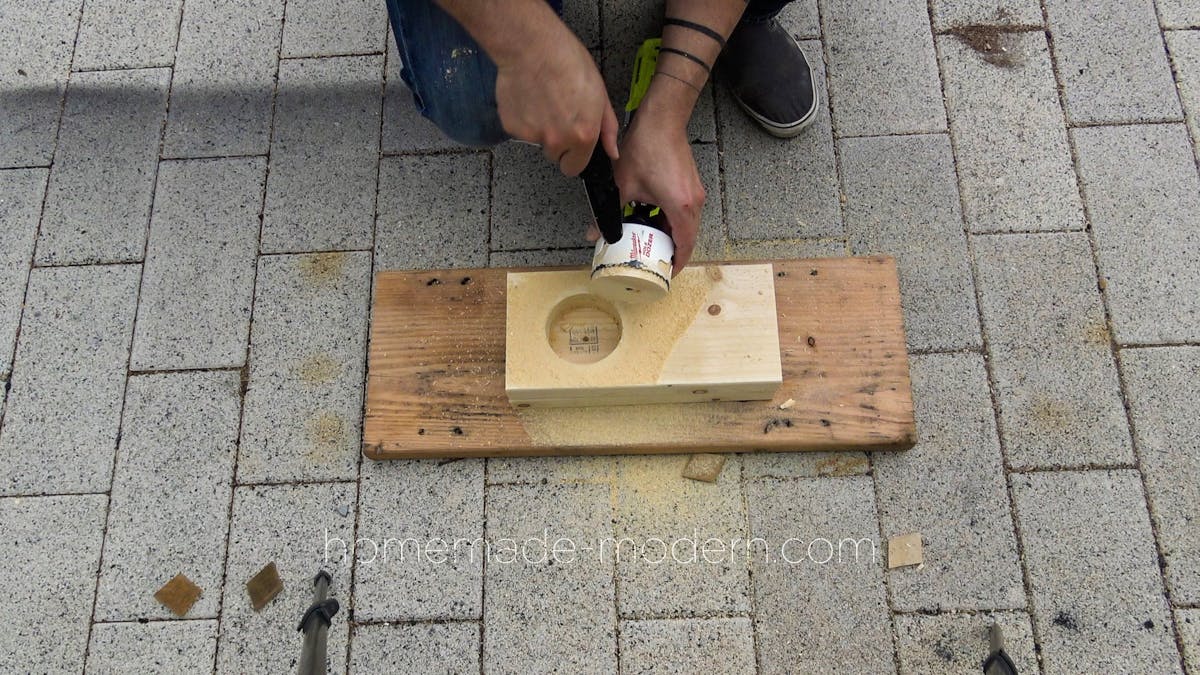 Step 3: Time for shaping and sanding 
For this project, we used a belt sander with 60 grit and 80 grit belts to give shape to the blocks of wood, we just pressed the block against the sander to give it a geometric shape. No need to plan anything beforehand, just eyeball it and keep sanding down until you like the way it looks. Now, use a drum sander to smoothen out the rough holes from the hole saw cut. 
Step 4:  Seal the wood and wax the holes  
Time to seal the wood, here we did 3 coats of Minwax polyacrylic using a foam brush for a better finish. We obviously don't want the silicone to stick to the inside, so to solve this issue you can melt some soy candle wax and pour it into the holes and coat it evenly. Now if anything sticks to it you can just use a heat gun to melt the wax and can easily remove it.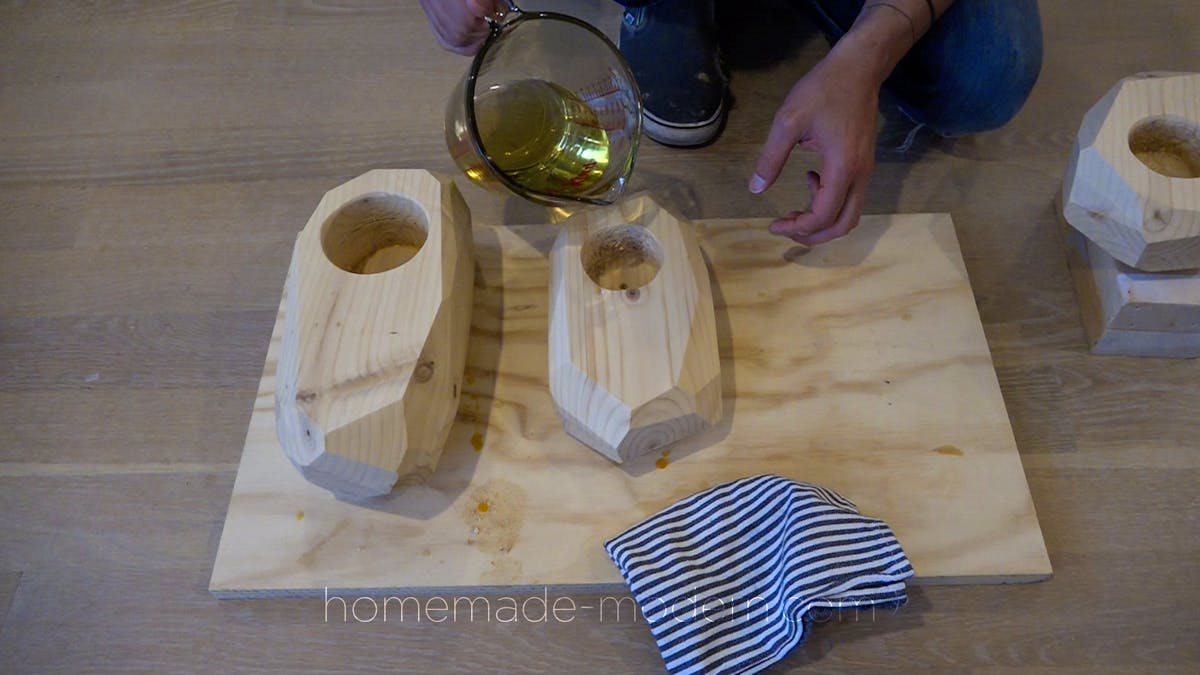 Step 5: Glue a mold, mix and pour mold star 30
Glue the wood originals down to a piece of melamine and hot glue a melamine frame around them to create a kind of mould. Now mix some mold star 30 a silicone mould making material, and pour it over the planters. Once this is cured just pry away the melamine and pop off the wood planters carefully. A putty knife will come in handy for this task, for separating the wood that is glued down to the melamine. 
Step 6: Mix, pour and cure the concrete 
After rinsing out the moulds, mix up some Quikrete countertop mix in white and fill up the moulds. Let the concrete dry for up to 2 days minimum, then gently pop them out of the moulds once it is hardened. 
The last step, just pick out some succulents or any of your favourite plants and place them into the planters and we're done!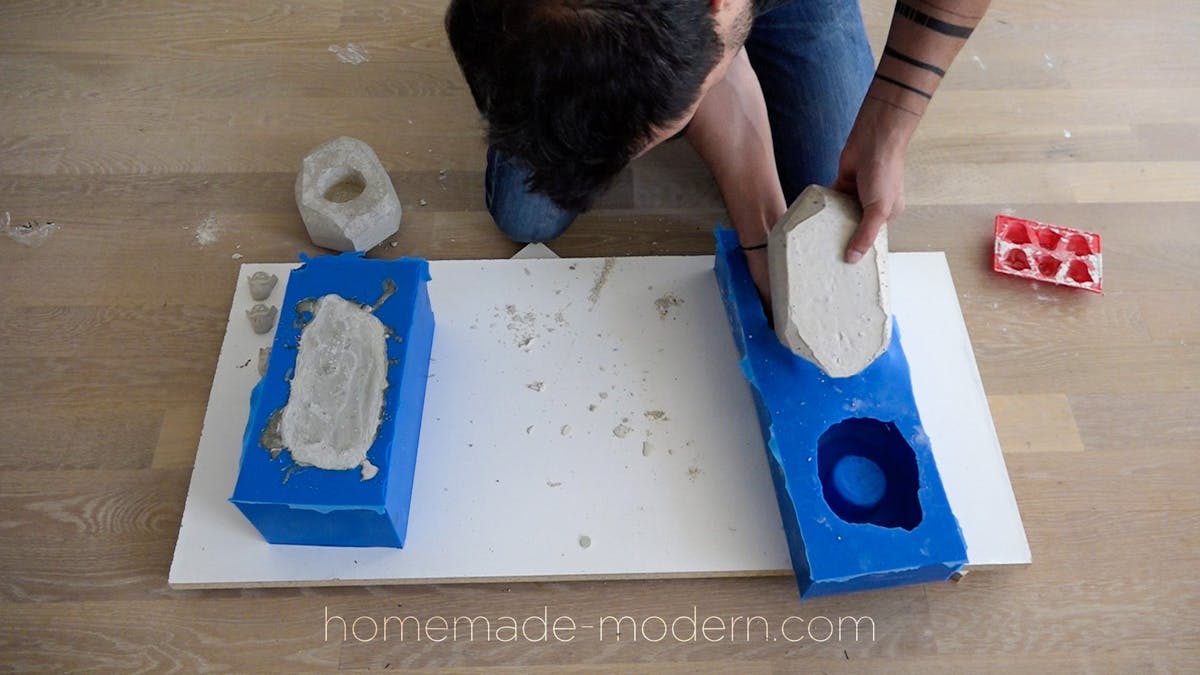 You are never running out of plants anytime soon or you won't have to run to the store to get some new ones as the moulds are reusable and you can make as many planters as you want out of them! 
Subscribe to our Newslatter
Sign up for free and be the first to get notified about new posts.