Ever since the pandemic has hit the world, it has almost come to a standstill. We can't imagine how the kids must feel to sit at home doing nothing all day. Today we have got a fun solution for that problem for you. We're going to show you how to make a rock climbing wall at home! Be sure to take all the safety precautions while making and using this DIY project to avoid any serious injuries. Read more to find out how it is made.
Products needed for this DIY project:
1.      2 x 4
2.      Plywood
3.      T nuts
4.      Climbing holds
5.      Bolts
6.      Screws
7.      Drills
8.      Polyacrylic
9.      Wood sander
Let's get started with our DIY project!
Step 1:
The first step of this DIY project is to find a space to make this rock climbing wall and take the measurements for the various parts. It is preferred to make this in a wide corner of your house since it probably won't come in the way and it will also add a good touch to the corner. Measure the length, breadth, and height of all the walls so that the wood in the next step can be cut according to those measurements. It is really important for you to be as accurate as possible in this step as this can make or break your whole DIY project.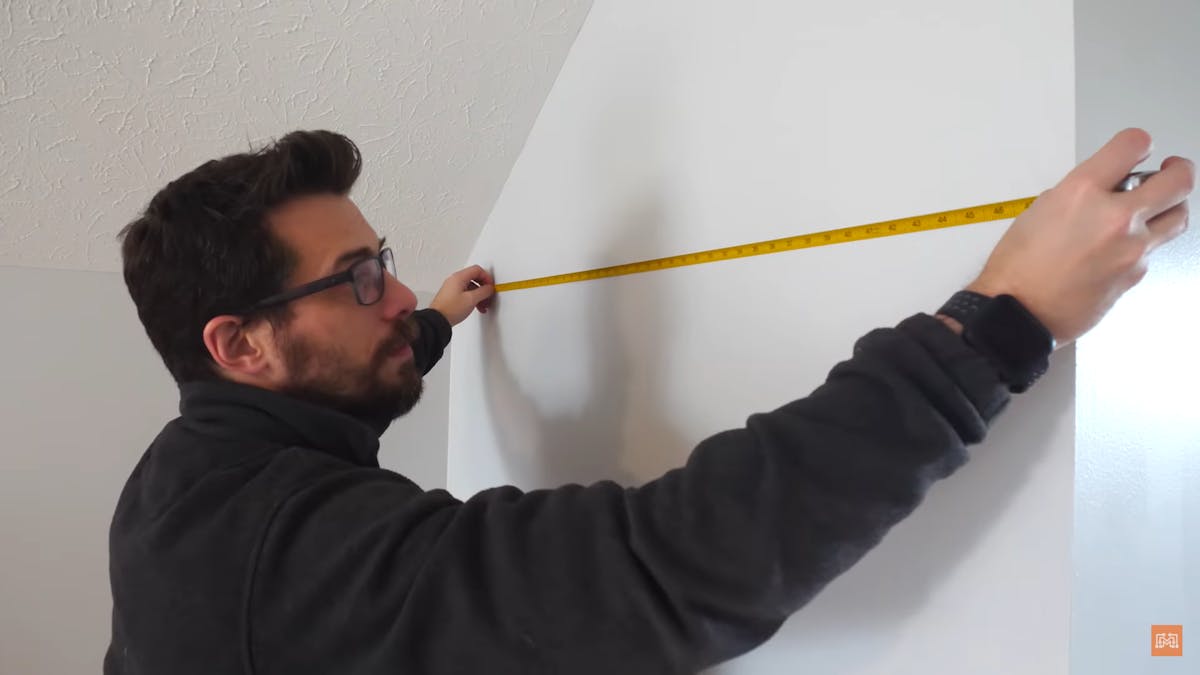 Step 2:
Once the measurements have been taken it's time to make the frame of the rock climbing wall. For the frame, we will be cutting pieces of 2 x 4 according to the measurements that you had taken in the first step. Once cut, screw these pieces of 2 x 4s together to make a frame. You can start by putting the four outer pieces of the frame together and then screw on some 2 x 4s in the middle at equal distances to make the frame sturdier. This can be done by using some screws and a drill. If you're dealing with a corner or multiple walls, you need to make those many frames by repeating the above process. Once the frames are made, screw them onto the wall by using longer screws so that they can go through the 2 x 4s as well as the drywall. If there is any incline in the wall on which you will be screwing this frame then make sure to make the proper angles in the frame. Use as many screws as you want to secure the frame in place as this will form the base of your rock climbing wall.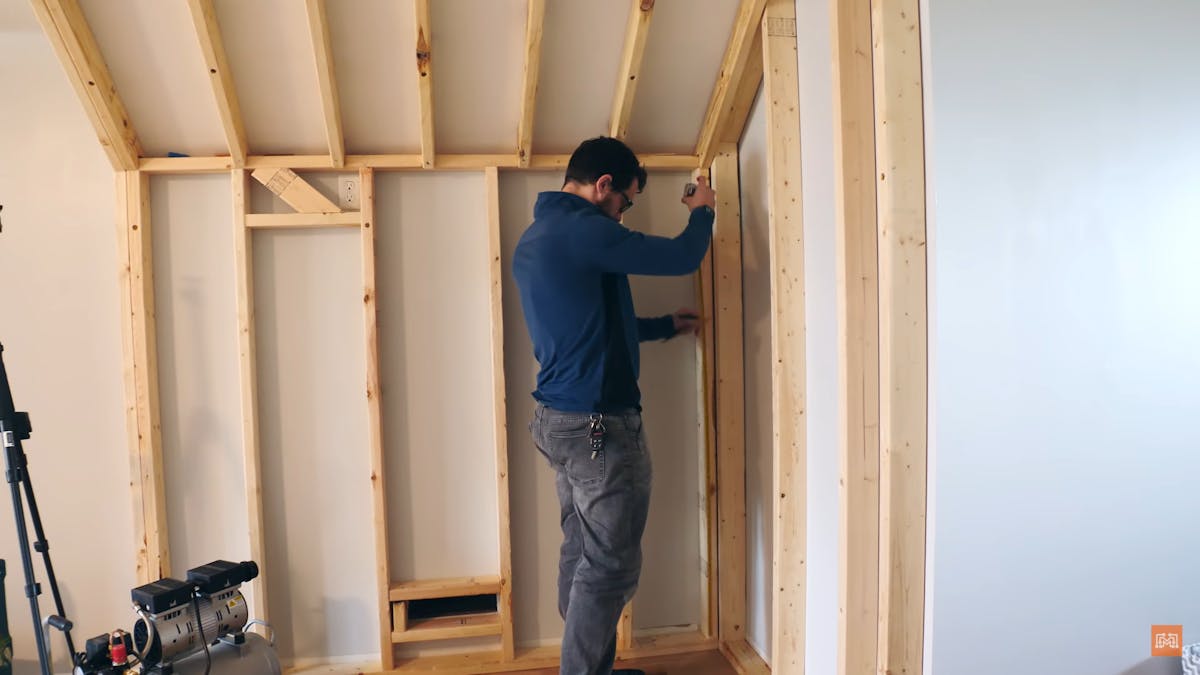 Step 3:
Now it's time to insert the plywood sheets on the frame. Using the same measurements taken in the first step cut your sheets of plywood carefully. You can even divide one piece of plywood into multiple sections so that it's easier to handle while screwing on. In this step, we also need to drill some holes in the plywood for the handholds to be attached. To make sure that the holes don't intersect with the frame behind it, it would be better to make a grid and mark out the points where you want to drill the holes beforehand. Once you are happy with the placement, make the holes in the plywood using a drill. You then need to hammer in T nuts into each of the holes you just made. Once this is done, simply screw all the pieces of plywood to the frame using some screws and a drill.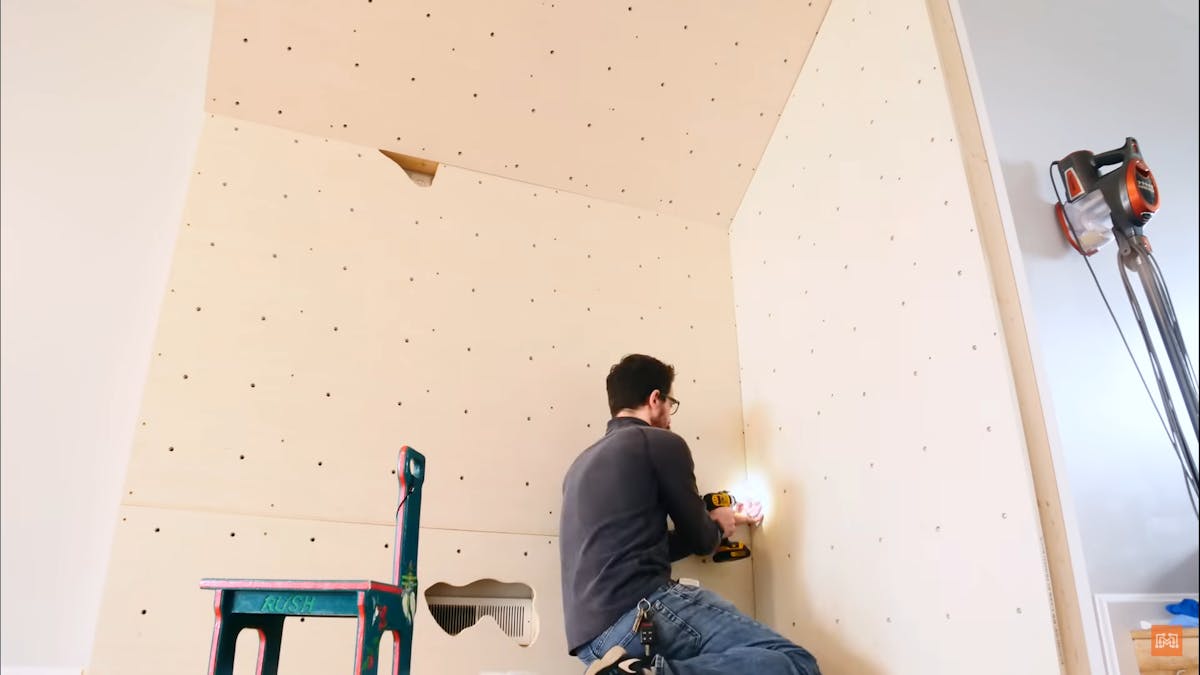 Step 4:
The next step is to sand down all the edges of the structure of the rock climbing wall to eliminate any rough edges and give it a smooth finish. You also need to apply a few layers of polyacrylic to protect the wood.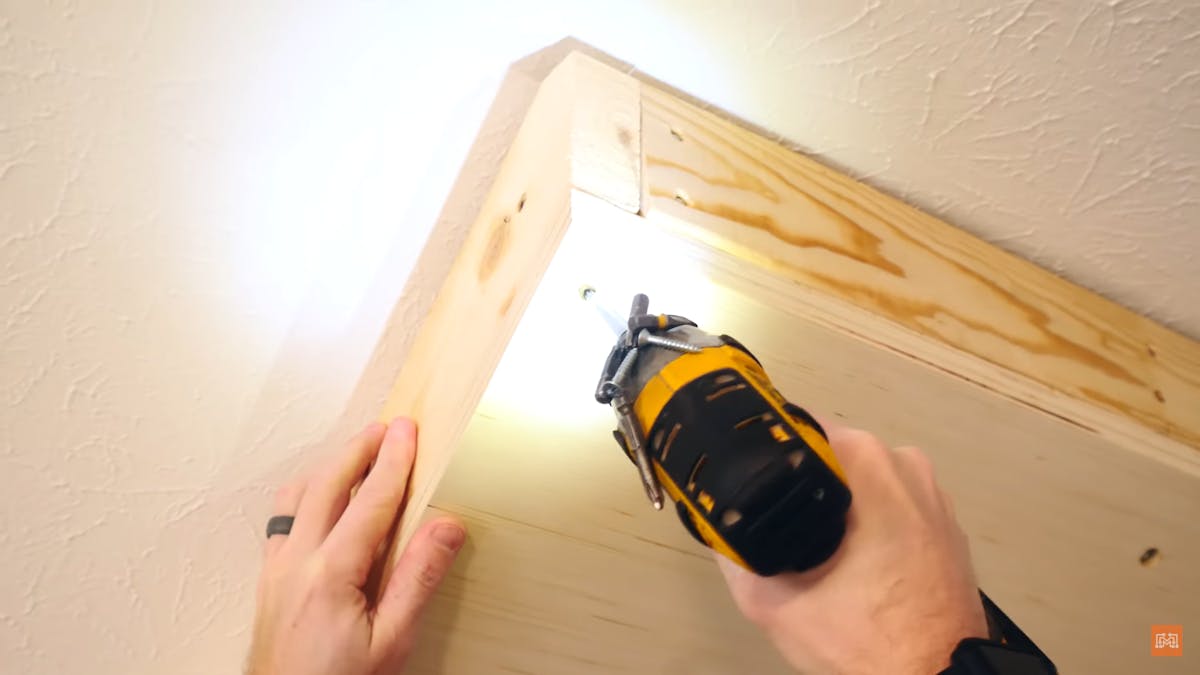 Step 5:
Now let's work on the holds that will be inserted into this rock climbing wall. You could either purchase this ready-made from the market or you could make your own. To make your own you will need to mold pieces of air-dried clay into whatever shapes you want. Once the basic structure of your climbing holds is complete then find the center and push a dowel all the way through that point and remove it so that there is a hole left behind. Place this in a box and put liquid silicone into it to make a mold. You can make as many shapes and sizes as you want. Once the mold is ready, put some epoxy into it and wait for it to set. After it sets, just sand it down to give it a nice and finished look. You can dye these to whatever color you want! Once done, simply bolt these onto the climbing wall.
Your rock-climbing wall is now complete! Your kids can now enjoy while learning new skills from home itself. Who said that you need to go outside to stay active! What is so unique about DIY projects is that you can customize them in any way, shape, or form that you want so let your imagination run wild. Enjoy your latest creation!
Subscribe to our Newslatter
Sign up for free and be the first to get notified about new posts.