HERE'S WHAT YOU'LL NEED:
- Wood glue
- Cutting mat
- Table Saw
- Spray Lacquer
- Super 77 spray adhesive
- Silhouette Portrait (vinyl cutter)
- Truck/Wheel combo
- Grip tape
- Thin Air press bag
- Veneer pack
- MeshCam
- 123d Design
Procedure:
I brought each of the two 2x2' sheets of 1" insulation into "MeshCam" and it cut out the finished piece, right down the centre.
I coated the entire surface in super 77 spray adhesive and let it sit for a few minutes. I assembled the pieces, effectively making a 2" thick piece of foam. I inserted the largest bit that would fit into my X-Carve computer-assisted cutting machine—a 1/4" ball nose bit.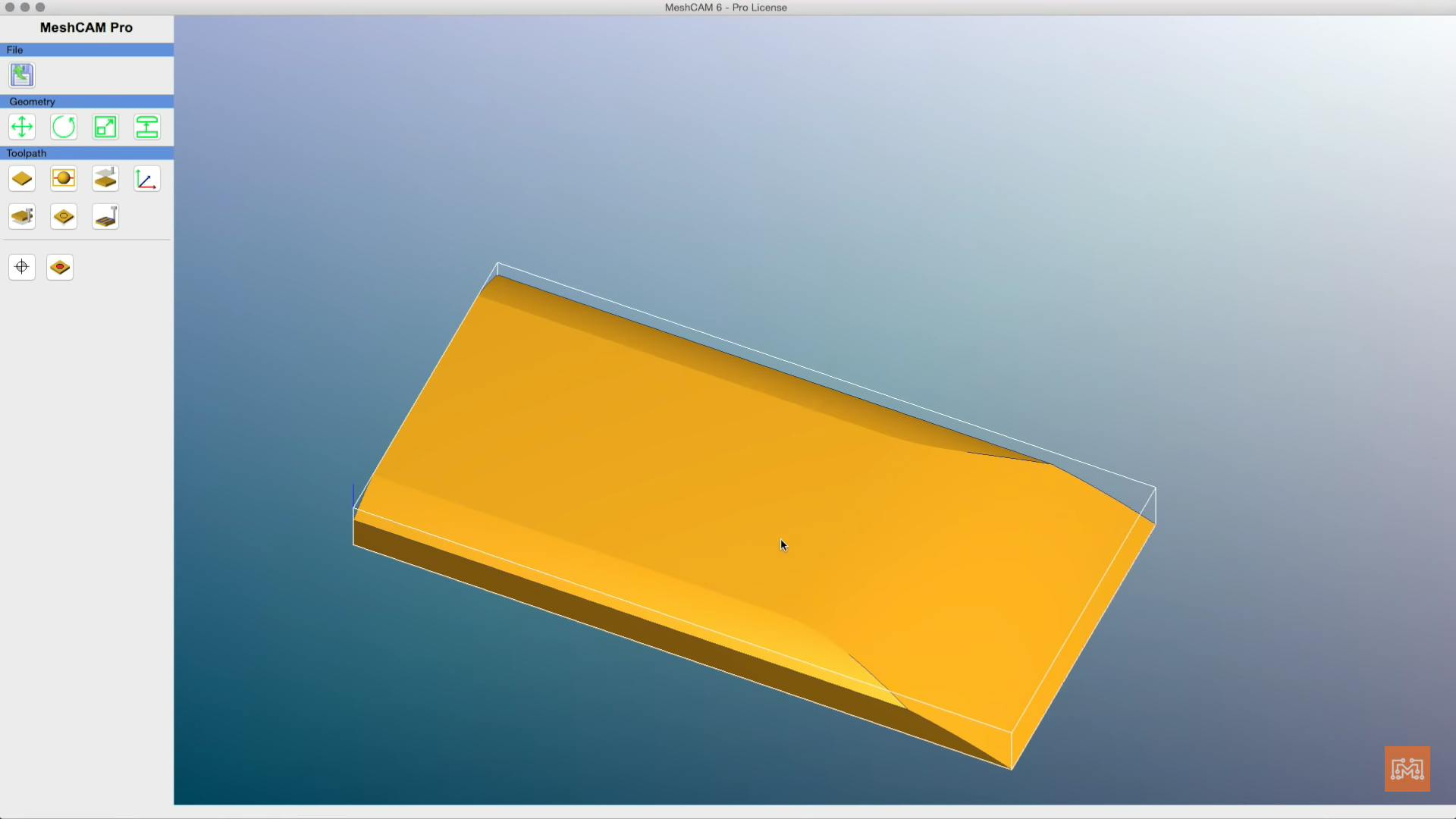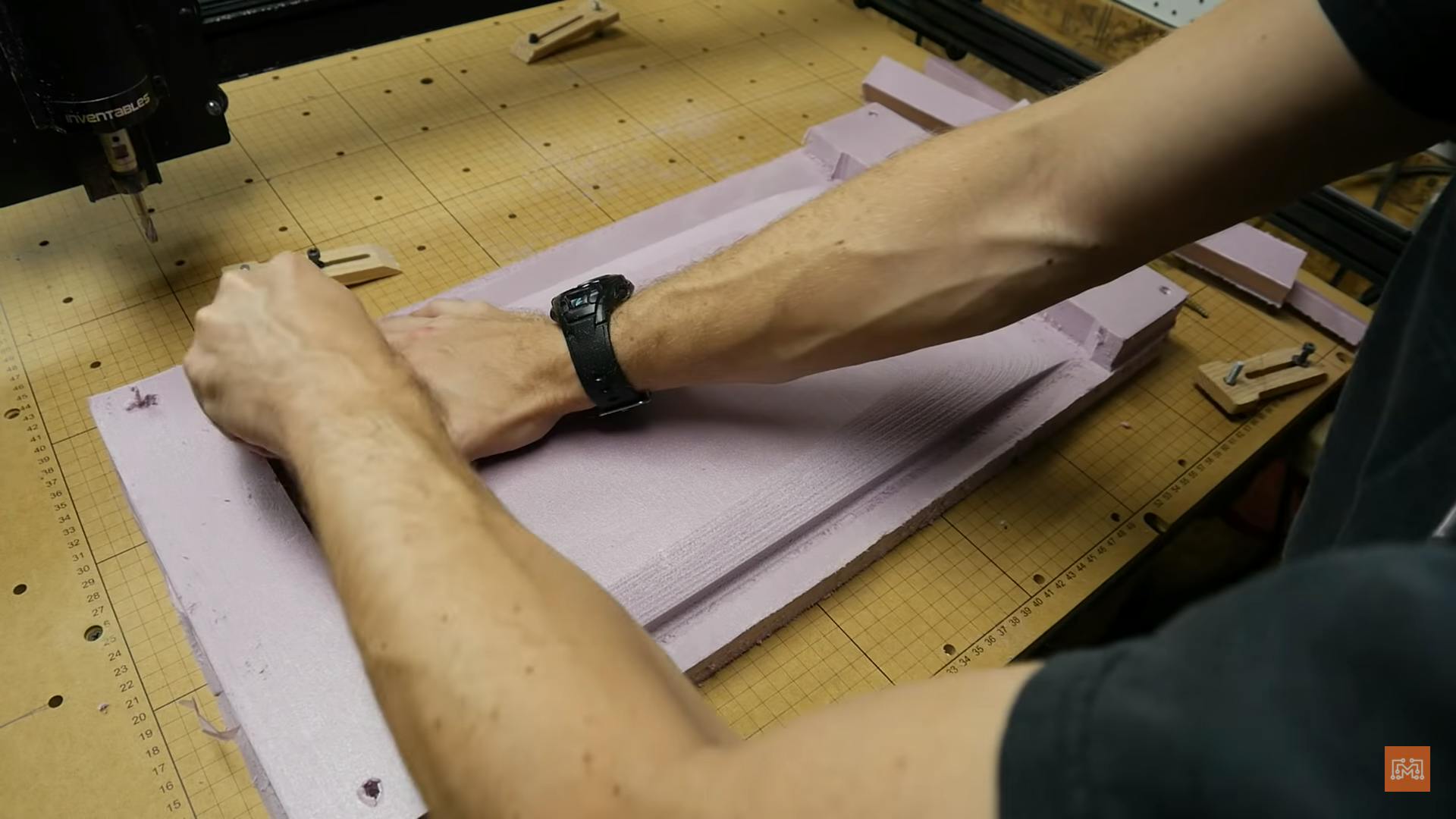 I set one foam panel against the waste board and screwed it in. I chose two different firmness foam panels and ran two separate toolpaths for each half of my project on different machines. After all of the excess material was removed from the removed parts, they fit together perfectly, just not exactly with precision due to slight variances in how they were created.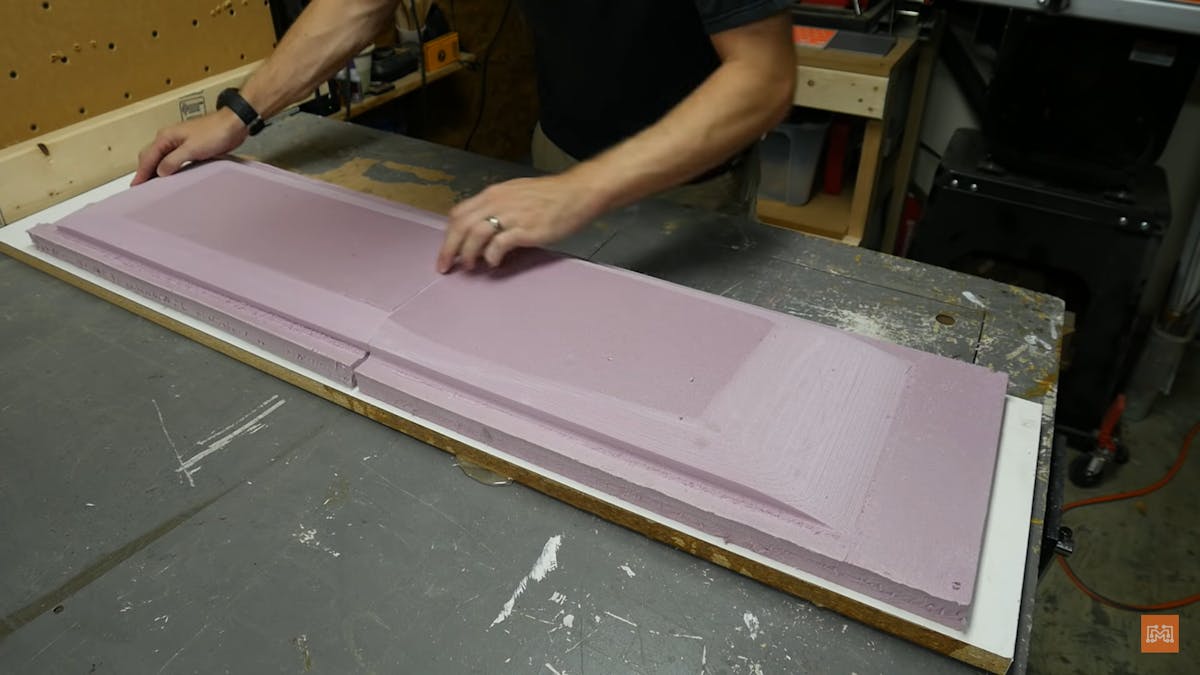 I taped the two pieces of foam with spray adhesive to some melamine. I checked to see that they lined up with one another once it was glued down. Then I smoothed out the transition with a rasp for a very polished look. The entire foam surface was covered with tape before laminating so that it wouldn't get damaged in the process of lamination.
I carefully measured the size of my board, all the way around. I had to purchase several sets of veneer sheets to get enough supplies. These were much bigger than what I needed, so I trimmed them down. Then I ripped them down to size by cutting the sheets into strips, with different grain directions for strength.
To glue the veneer sheets together, I applied an even coat of glue on both sides of each piece and placed one of the sheets on top of the other (like a sandwich) making sure to alternate grain direction between layers. I pressed them together with some packing tape so they wouldn't slip around while the wood glue set.
I slid the sandwich and the foam into the vacuum chamber. I was careful not to snag the bag on anything while doing so. Underneath the puncture valve, I inserted a strip of nylon mesh that helped ensure that the valve did not get blocked before the vacuum was complete.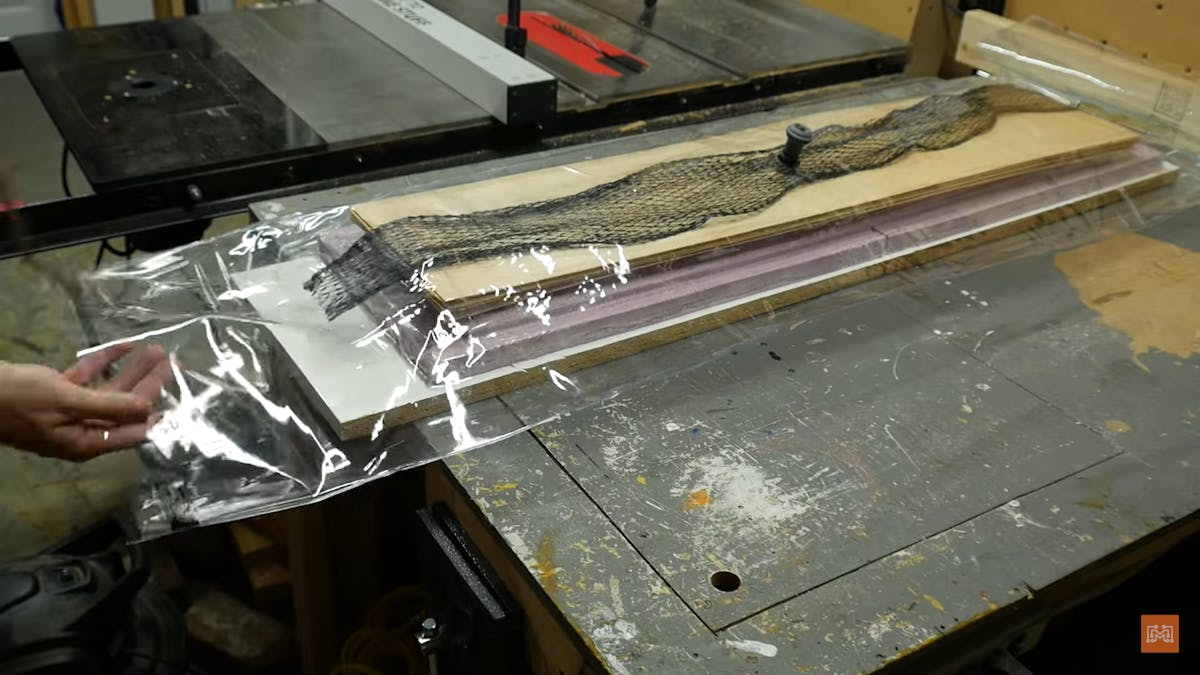 Once all of these things were in place, I sealed up one end of the bag using some very sticky black glue/tape. Attach the shop vac hose to your valve and turn it on, allowing it to pull out all of the air (the included hand pump would be helpful here). Let it dry overnight or for at least 6-8 hours before pressing your valve to release the vacuum.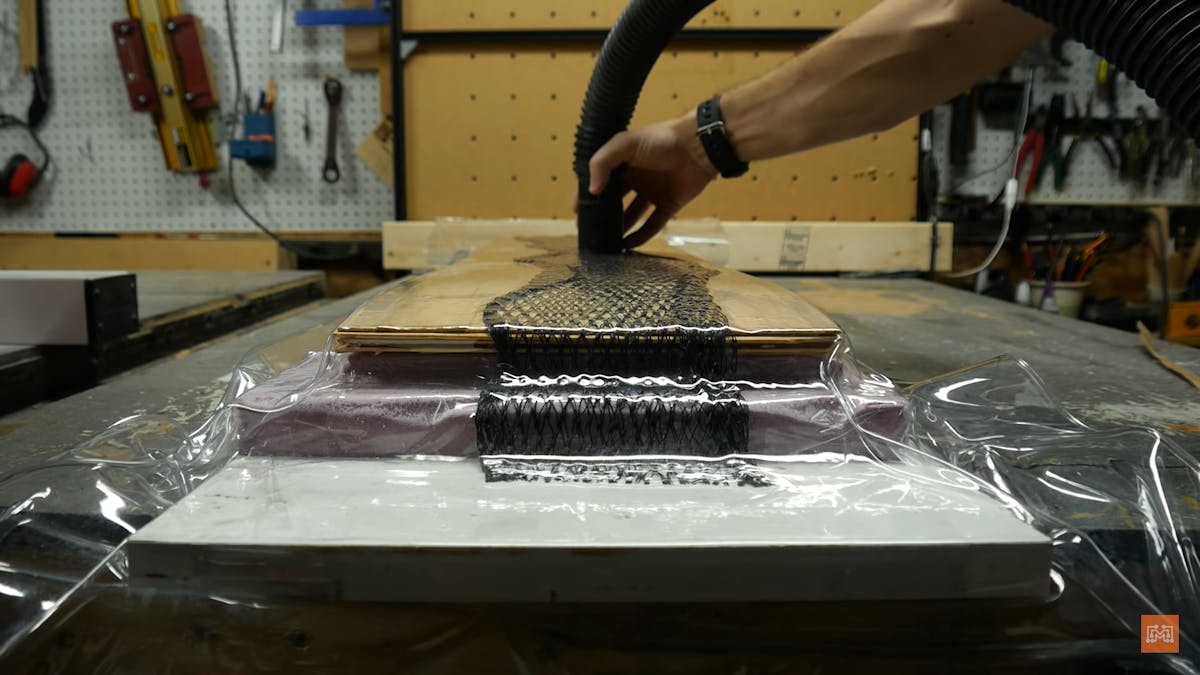 Then I flipped the paper over and traced the shape onto it. This gave me a symmetrical template that I could use again. I drew a centre line down the middle of my page and then added a light coat of spray adhesive to one side. Using our cutting template as a guide, I lined up the creases with the centre line and then secured the opposite side. With a bandsaw, we trimmed out the shape that we needed, but you could use a jigsaw and save yourself some time and effort!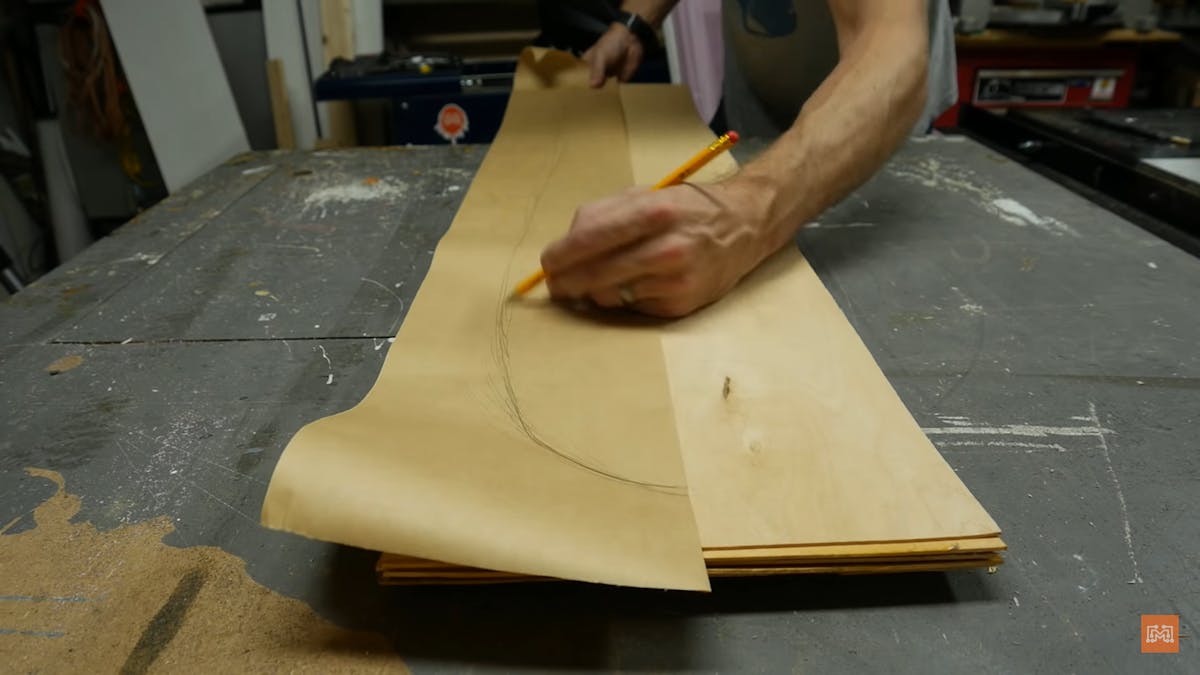 I sanded my bandsaw cuts with a belt sander. I used an orbital sander to give the edges a slight round over. Since I lightly attached the template with spray adhesive, it was easy to peel off afterwards.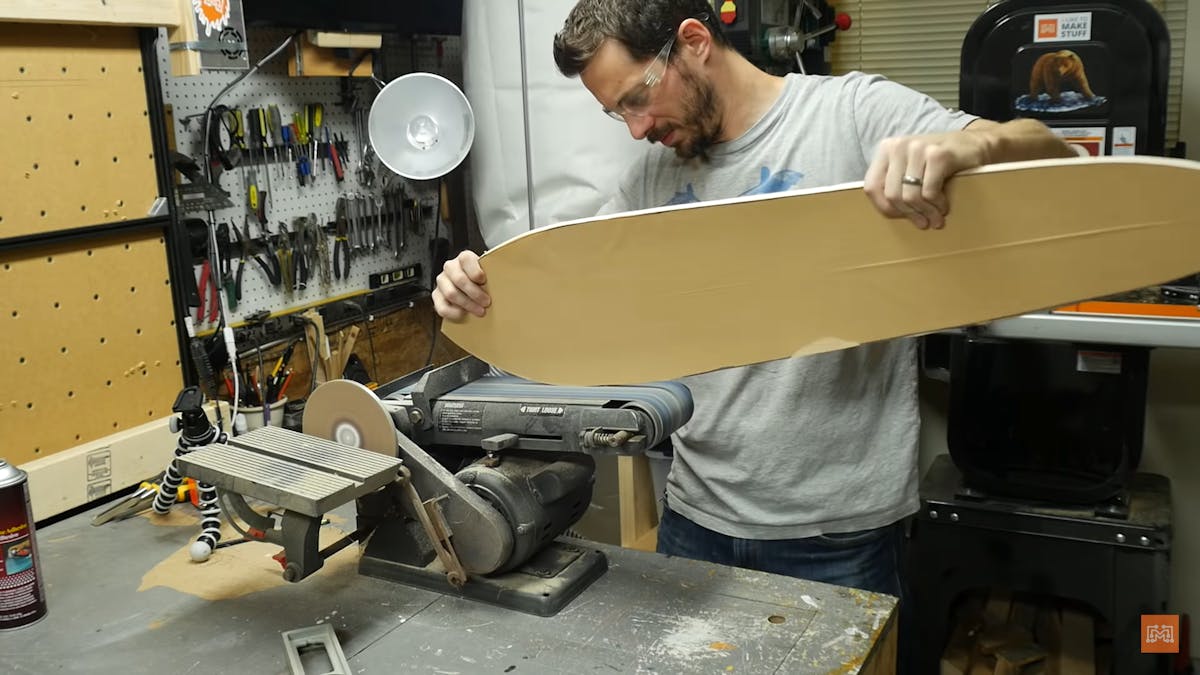 I grabbed a drill and a straight edge, then lined up the trucks to make sure they were perfectly straight. Then, I marked where each hole needed to go and added a block at the bottom to prevent a blowout. Then, I got my drill and drilled eight holes in each. After that, I assembled the whole thing which was pretty simple.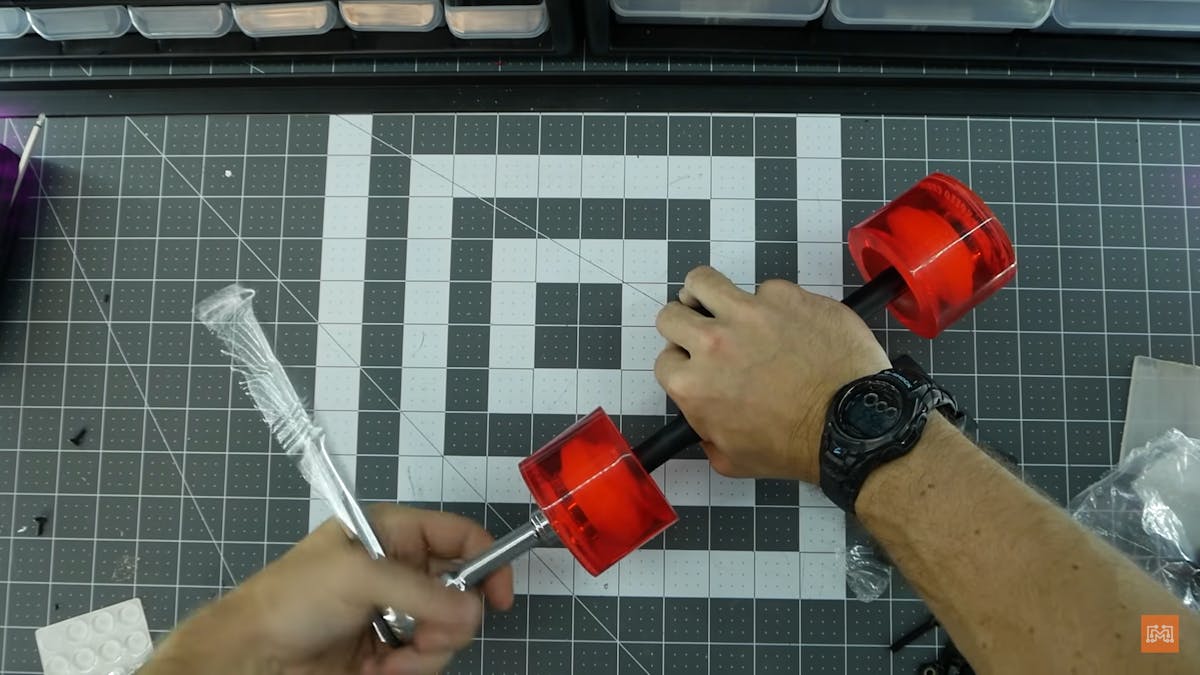 I trimmed some graphics from a roll of vinyl on my cutting machine. I removed the extra material with a pair of snippers, then I positioned a sheet of blank, transfer paper over it. Using a utility knife, I peeled off the blank vinyl so that only the partial image is on the transfer paper.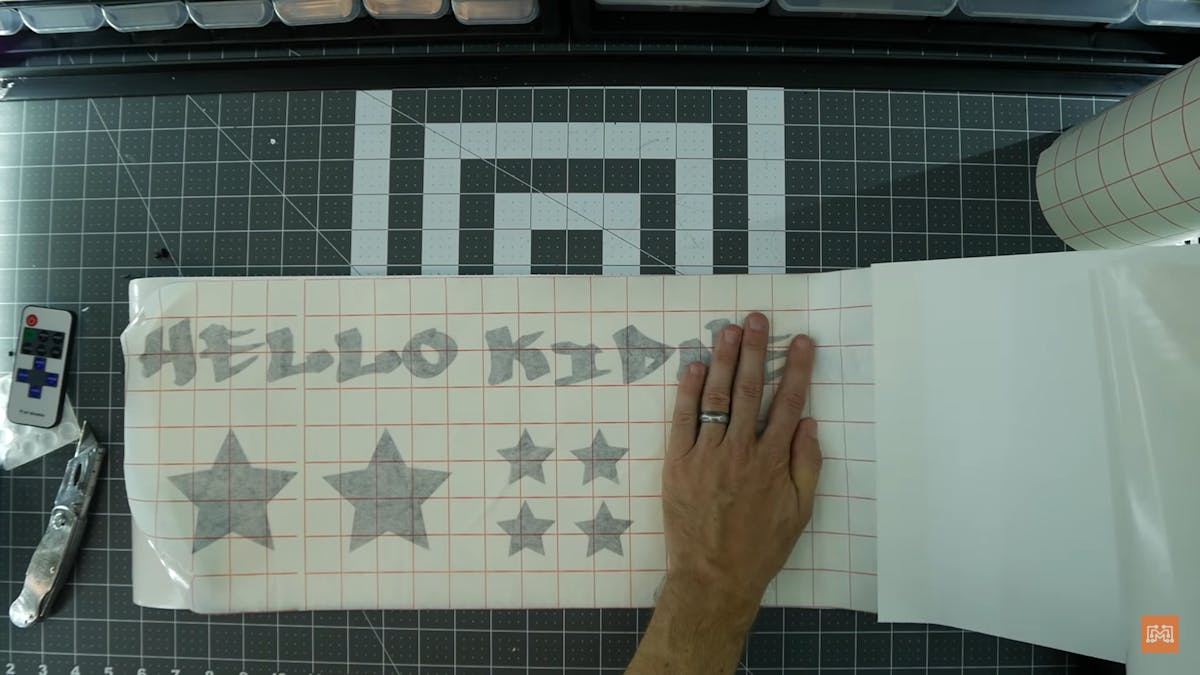 To begin with, I taped off along the edges of that border using blue tape to protect the surrounding surface. Once ensured I was well covered, I then sprayed many coats of black paint in all exposed areas. After drying, I removed the tape and observed how it had turned out. Next, I applied a few more coats of lacquer for protection.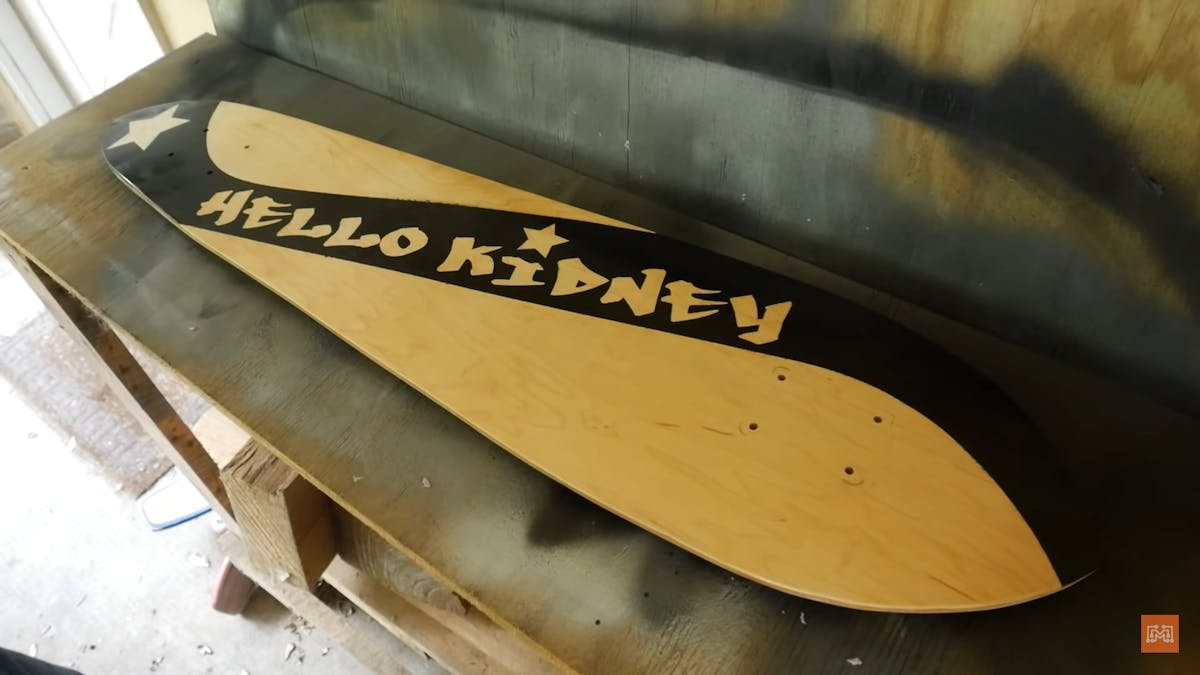 I acquired some red grip equipment. I peeled off the backing so I could successfully roll it over the top surface, making sure that there would not be any air bubbles underneath. After scoring the tool with my screwdriver to create a clean-cut, I removed the remainder of my excess equipment with a utility knife.
Lastly, I poked through each of the eight holes from underneath, and the riser pads will slide over the screws before inserting any nuts and truck.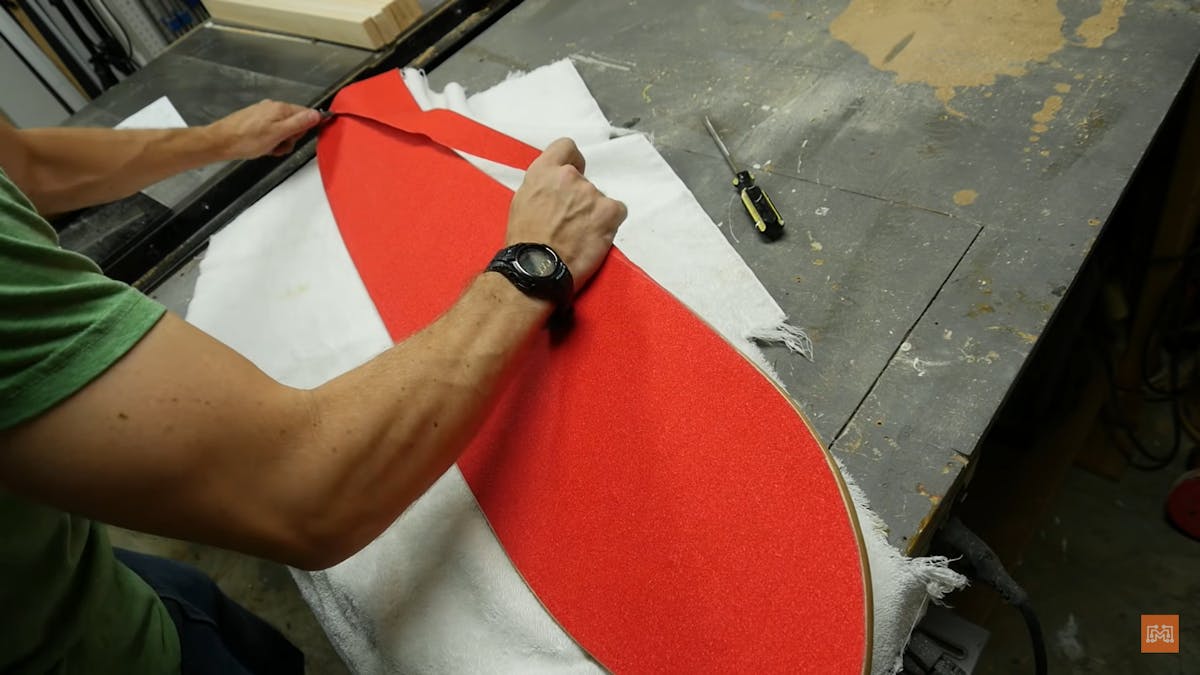 Subscribe to our Newslatter
Sign up for free and be the first to get notified about new posts.