Do you have two or more kids who want to live in the same room but you don't have space for so many beds? Well, bunk beds are the easiest solution for your problem. But store-bought bunk beds are very expensive and can't be customized. So, we thought why not show you how to make your very own customized bunk beds at home! Read more to find out how it is made.
Products needed for this DIY project:
1.      2 x 6
2.      2 x 3
3.      1 x 4
4.      Plywood
5.      Black iron ladder set
6.      Polyacrylic
7.      Edge banding
8.      Screws, nuts, bolts, washers, and other equipment
9.      Drill
10.   Woodcutter or miter saw
11.   Sanding machine
Let's get started with our DIY project!
Step 1:
First, let's cut all the wood pieces for our DIY project. Keep in mind that here we're making two sets of bunk beds so that's a total of four beds. If you're planning to just make one bunk bed set which would comprise of two beds, then all the number of boards will be cut in half. Also, keep in mind that the lengths of these boards are being cut according to the dimensions of the room that the bunk beds are going to be kept in. If your room is bigger or smaller, you'll have to make the necessary changes.
2 x 6 s need to be cut to:
·        8 boards that are 84 inches long
·        8 boards that are 44 inches long
2 x 3 s need to be cut to:
·        8 boards that are 83 inches long
1 x 4 s that will be used for the slats of the bed need to be cut to:
·        56 boards that are 41 inches long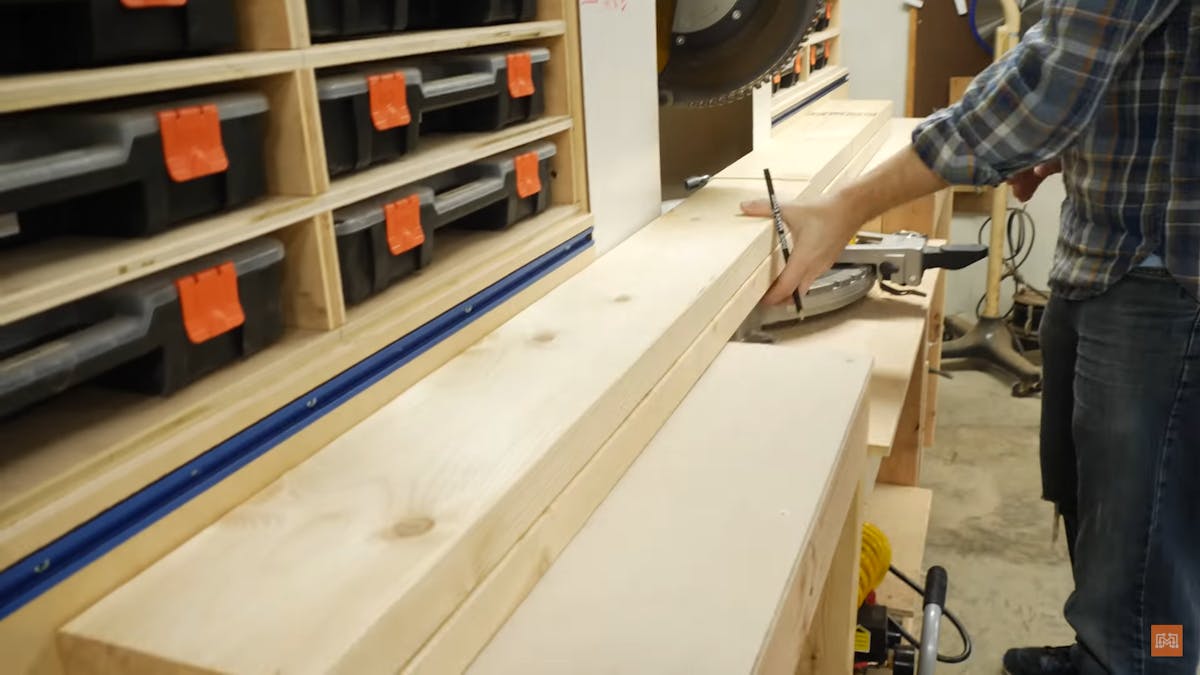 Step 2:
Now let's start assembling all the wood that we just cut. We will start by making the four frames of our bunk beds. Each frame consists of two pieces of 2 x 6 that are 84 inches long forming the length of the frame and two pieces of 2 x 6 that are 44 inches long forming the width of the frame. Along the lengths, we will also be screwing a piece of 2 x 3 on each side that is 83 inches long. Our slats and mattress will sit on this so it needs to be strong. Screw all these parts together using some screws and a drill. You could even use some wood glue in addition to this to make it stronger. Repeat the same process to make the rest of the three frames. Sand the full frame to eliminate any rough edges. Finally, finish them off with a layer of polyacrylic.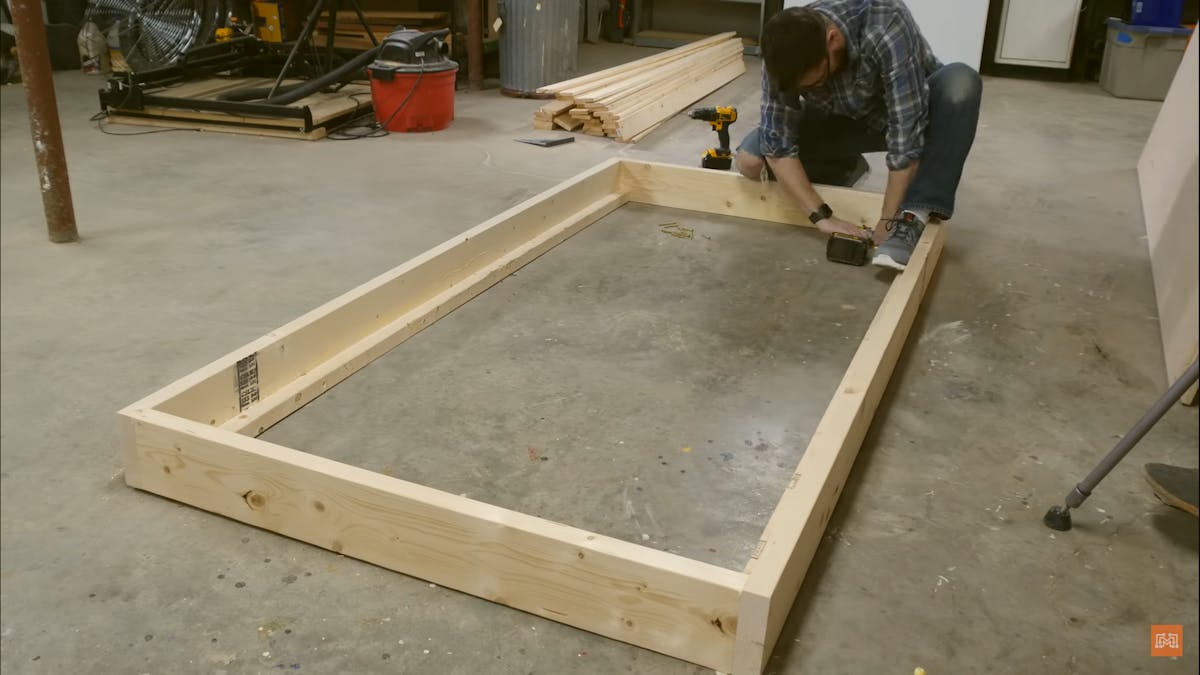 Step 3:
Once the frames have been put together, let's start screwing them in place. First, place the base into one corner and screw it onto the wall carefully. Then, mark how high you want your second bunk to be and cut spacers with legs of that length to hold the second bunk while screwing it in. Place the spacers on the frame of the bottom bunk and the frame of the top bunk on top of the spacers. Screw the second bunk onto the wall using some bolts and washers so that it's fit in place properly. After the second bunk has been screwed in properly, remove the spacers. If you're making a double bunk set just like us, repeat the same process on the other side too.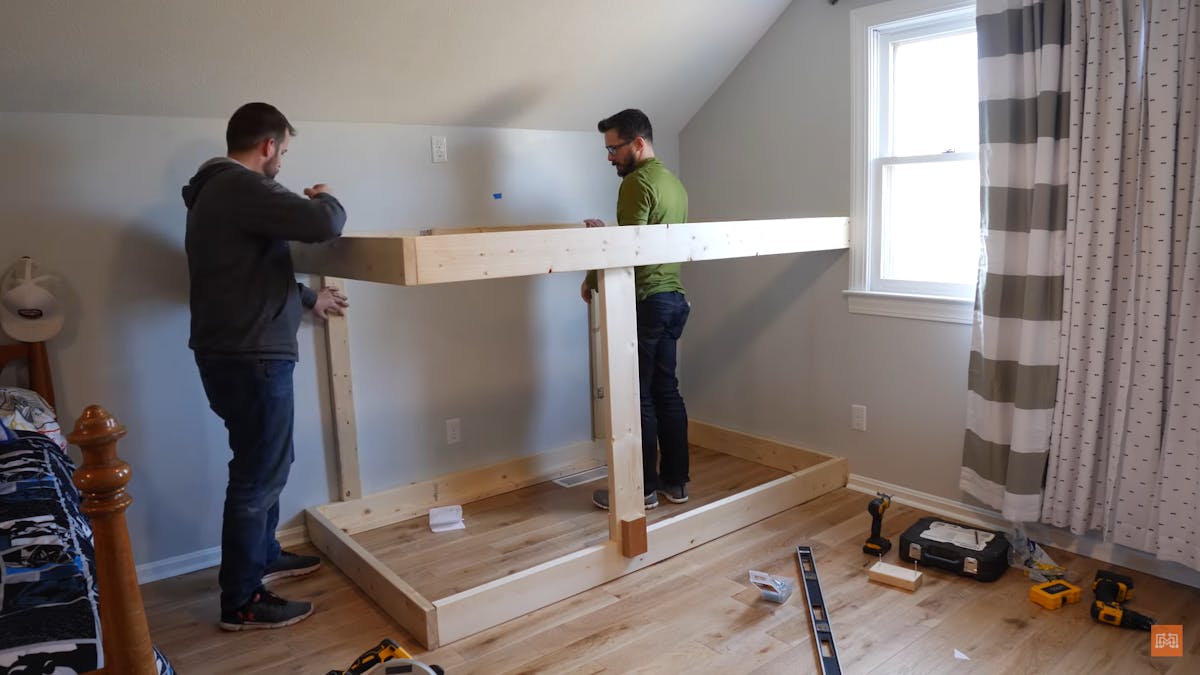 Step 4:
It's now time to make the ladder! This ladder is not only for climbing onto the top bunk but it is also for adding support to the open end of the bunk beds. For making the ladder you can get a black iron ladder set from any store of your choice and fit it together according to the instructions given. Don't let the number of rungs of the ladder exceed the length between the two beds. Once the ladder is ready, screw it in place securely on both the top and bottom bunk. Don't forget to screw in the supports for the open end of the beds too.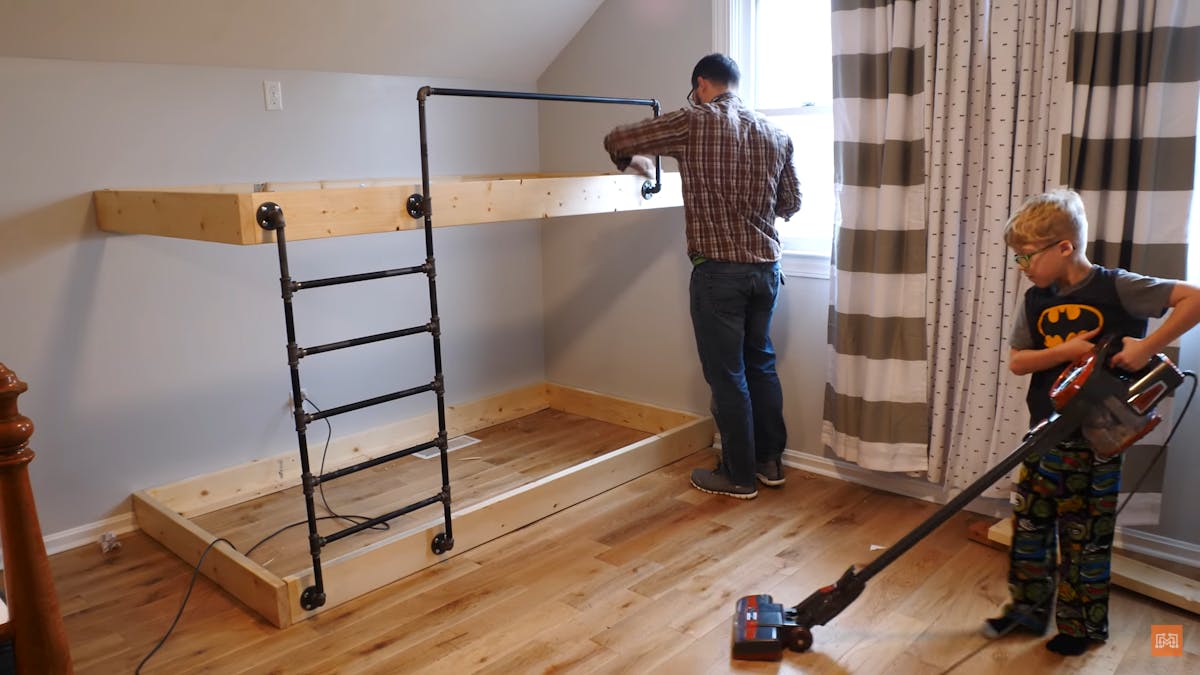 Step 5:
Let's now work on the headboard of the bunk beds. This will also work as storage space because we're going to make shelf spaces in this headboard. We will be making a structure with three-quarter-inch plywood that can easily slide onto the bunk beds. Each bed will require 3 long pieces of plywood cut to length and another small piece that will connect all these three pieces together along with two more small pieces to make the partition shelves. Screw all these parts together using glue, pocket holes, and pocket screws. To connect two of these headboards for one bunk bed simply use one very long piece of plywood. Iron on some edge banding to the edges of the headboard and shelves to give it a nice finish. You can even paint this to decorate it This will now easily slide into place and can be screwed onto the wall and the bunk beds if required. Repeat the same process on the other side if you are making two sets of bunk beds.
Step 6:
Put the boards of 1 x 4 that were cut down to 41 inches as slats on the frames of all the bunks. Since we have a lot of these slats don't be afraid to put as many as you want on one bunk as this would add to the support. Once the slats have been put in place, put the mattress, beds sheet, and pillows on the bed to complete your project!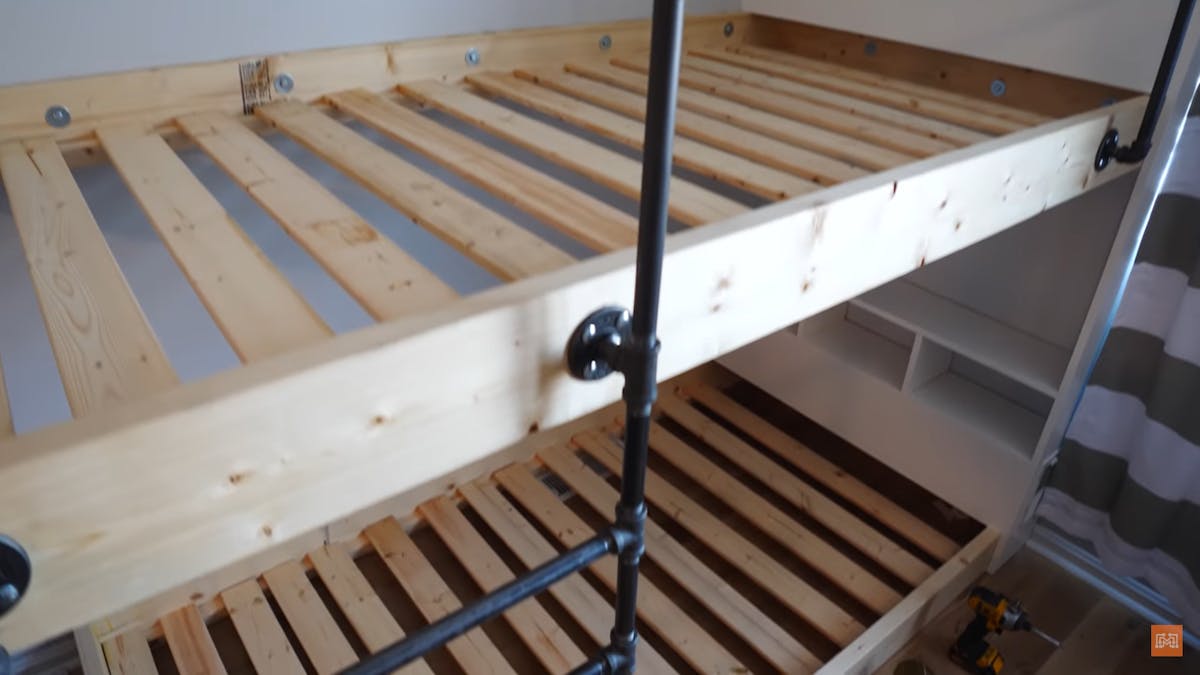 Your bunk beds are now complete! Not only are these bunk beds very functional but they're also extremely sturdy so you don't have to worry about your kids getting hurt. Be prepared to put a smile on your kids' faces when you show them this new addition to your house. Enjoy your latest creation!
Subscribe to our Newslatter
Sign up for free and be the first to get notified about new posts.