If you're into making really cool DIY designs just like us then you must have a miter saw. Now we all know how bulky a miter saw really is which makes it difficult to move around. But today we're going to show you how to make a very functional miter saw station which can easily be installed in your workspace. If you're interested, read more to find out how it is made!
Products needed for this DIY project:
1.      Miter saw
2.      Plywood
3.      2 x 4 wood pieces
4.      T slot track
5.      Dust collection vents
6.      Screws
7.      Drill
8.      Glue
Step 1:
First, let's start with the base of our miter saw station. For this, we will be making two table-like structures and connecting them with another wood structure on which your miter saw will be placed. To start off with the first table, depending on how tall you want your table to be, cut about eight long pieces of 2 x 4s and four short pieces of 2 x 4s. We will be connecting these by making pocket holes in the parts and inserting pocket screws into them using a drill. First, make a base frame with four pieces and then connect the whole structure together. You can even screw in some 2 x 4s in the middle to make it stronger. Repeat the same process to make another such table. Your tables should look like the ones given in the image below.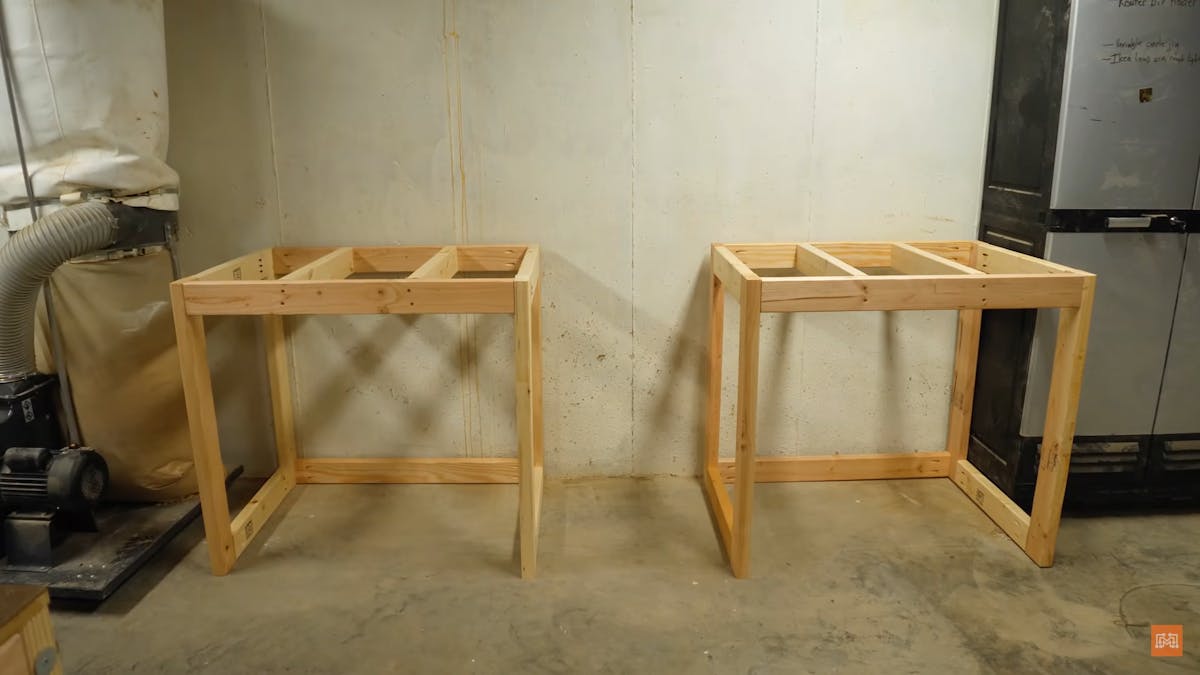 Step 2:
To connect these two tables, take five pieces of 2 x 4s and connect them together using some screws and a drill so that they resemble the structure given in the picture below. Screw it onto the other two tables carefully in such a way that it is slightly lower than the tops of the other two tables since this is where the miter saw will be placed.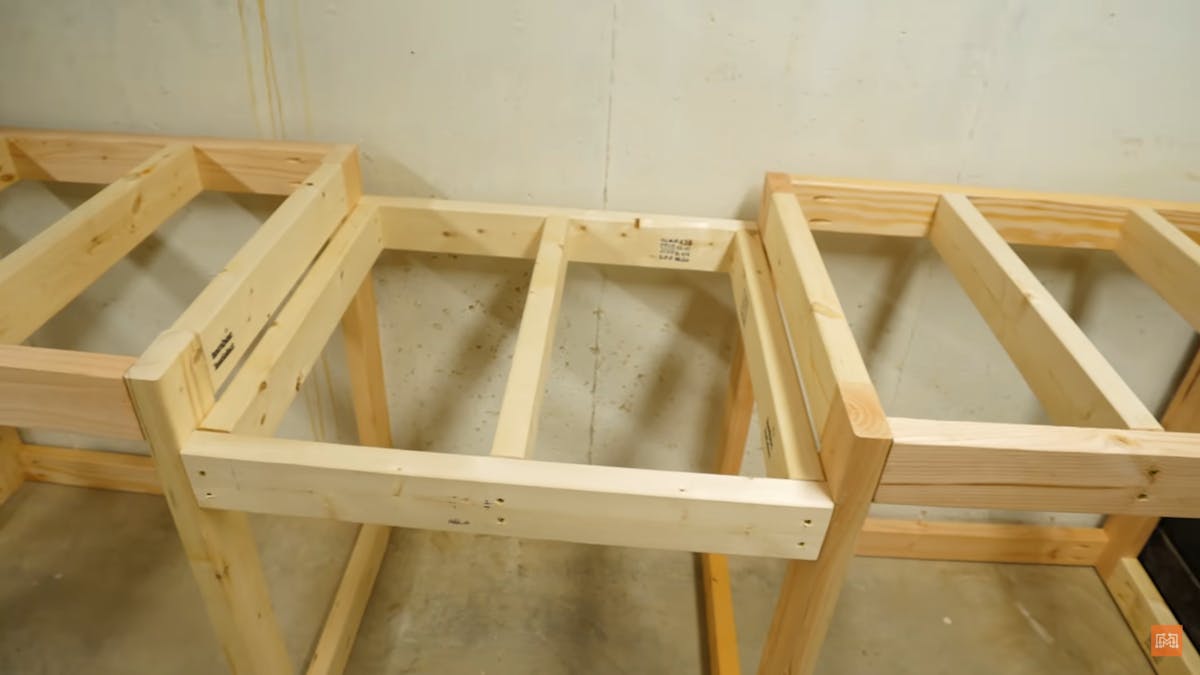 Step 3:
Now let's make the tabletops for which we will need plywood sheets cut to length. For the side tables, measure the length and breadth and cut the plywood according to those measurements. Screw them onto the tabletops using some screws and a drill. For the center lower table on which the miter saw will be placed, we need to do an extra step. Since the miter saw will release a lot of dust while cutting the wood, it is advisable to put dust collection vents at the back of this structure. For this simply cut out the size of the vents from the center plywood sheet using a jigsaw and screw the vents on. Then connect it to the hose of your dust collection system to keep your workspace clean. To know more about the dust collection system, refer to the DIY given on our website.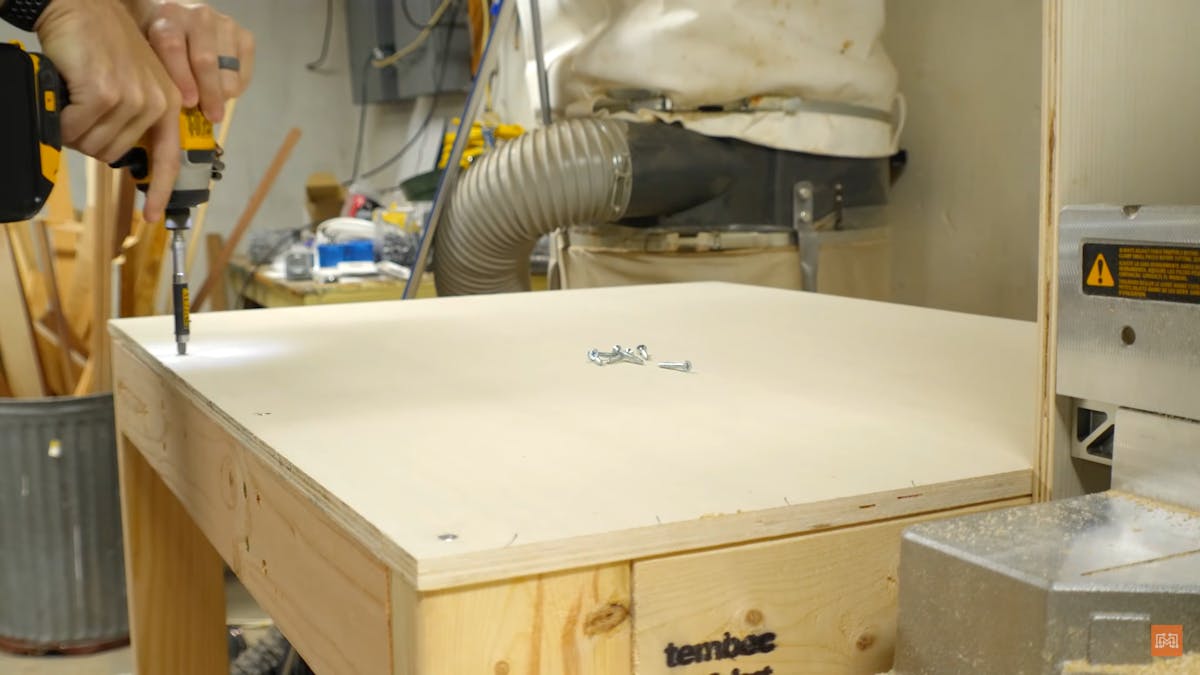 Step 4:
Before screwing the center table with the vents onto the legs, we need to make a box that goes around the miter saw. For this you will need to measure the height and depth of the miter saw when it is fully extended and using those dimensions make the box using sheets of plywood cut to length. Screw them on to resemble the structure given in the image below. You can now place your miter saw into this box, on the center table and screw it in place so that it does not budge.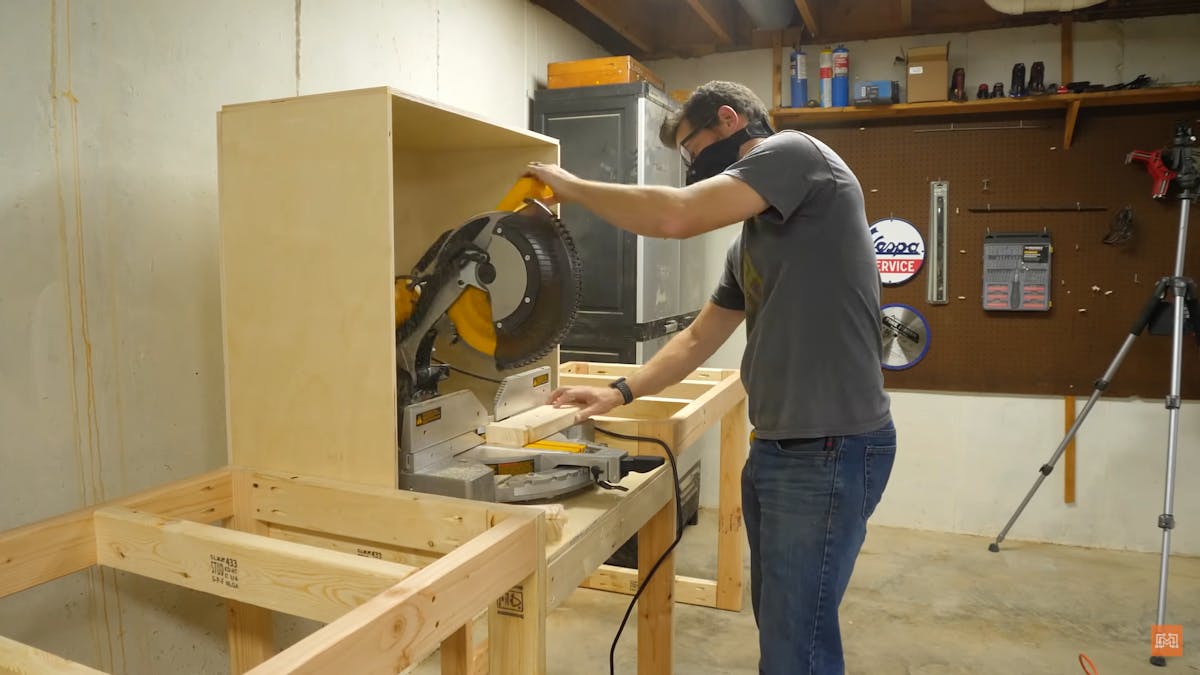 Step 5:
Let's start making the shroud for your miter saw so that all the dust does not end up flying on your face. To make a basic template, hold a piece of cardboard in front of the miter saw and cut it in such a way that even after it is placed the miter saw will be able to move freely in all directions. Using this cardboard as a template, cut the plywood sheet. Once you're satisfied with the design, screw the shroud onto the plywood box.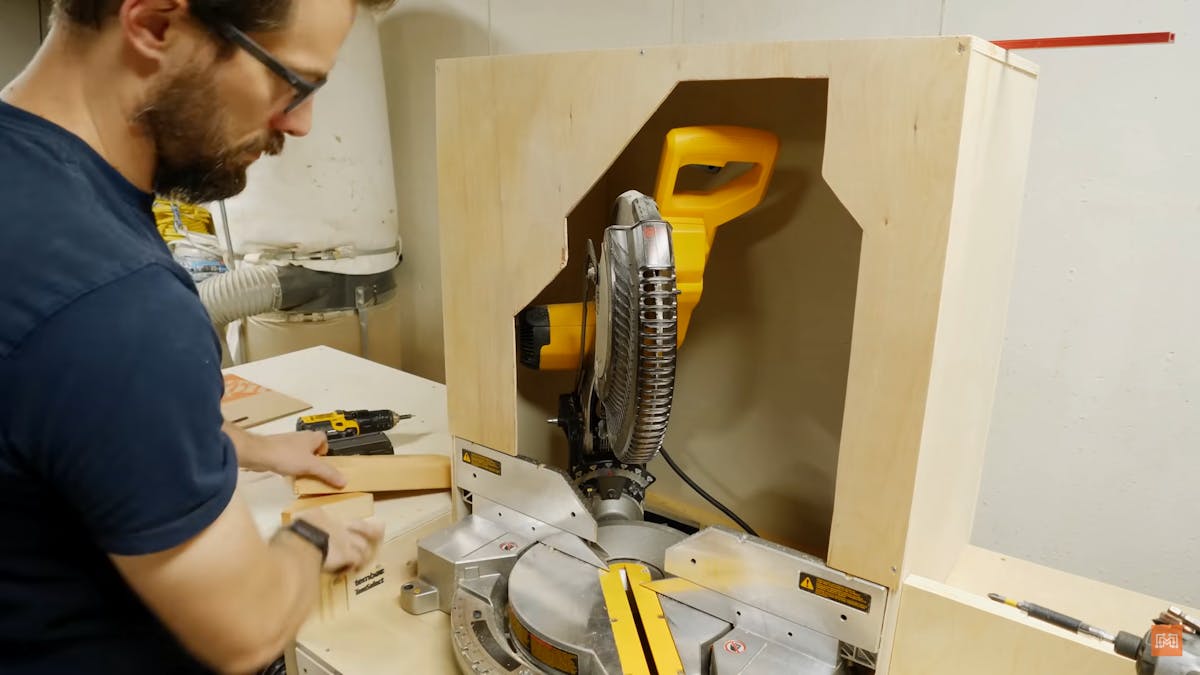 Step 6:
Now it's time to make the fence that will go on either side of the saw. For one side you need three pieces of plywood that is equal to the length of your side tables and three pieces of 2 x 4s that are cut to an angle on one side but are at a ninety-degree angle on the other side. Once you've cut all the pieces put them together using some screws and glue.
Then finally screw them onto the table at a point where the front fence of the saw lines up with the front of the fence that we just made.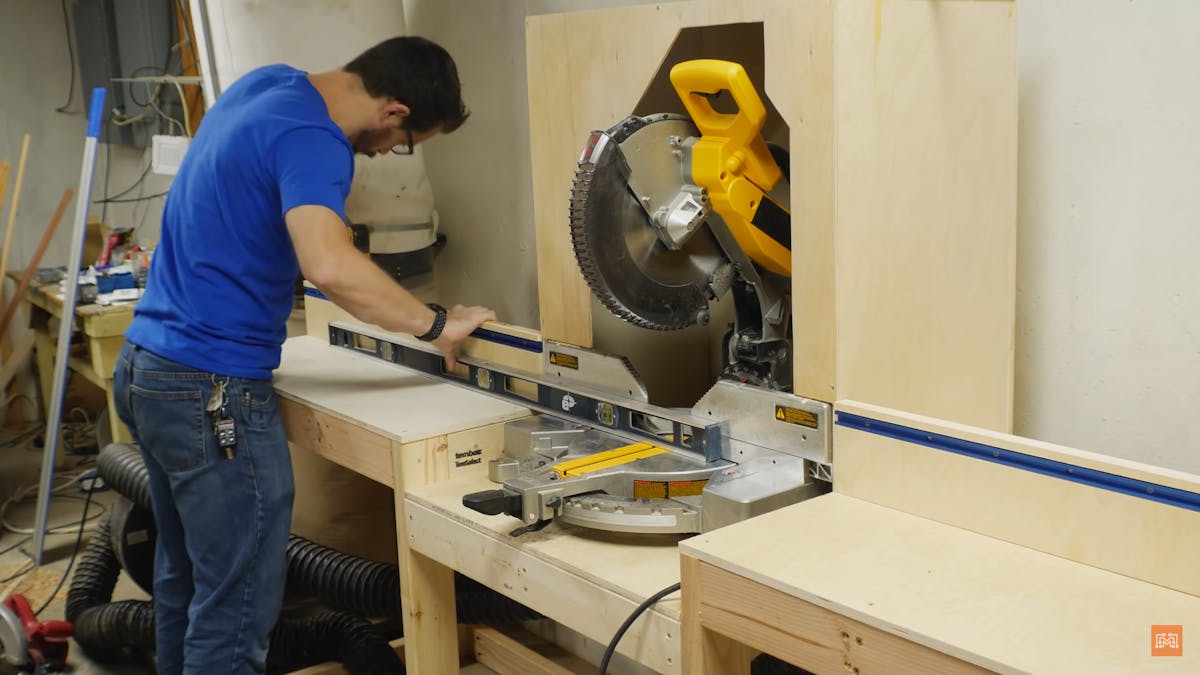 Optional step: You can also go the extra mile to make a stop block for your miter saw station. This will help you to take accurate measurements while cutting your wood using the miter saw on this station. For this, you will need to cut a narrow gap on the front side of your fence that is equal to the T slot track. Then using some wood screws, screw on the T slot track in the gap. Using some 2 x 4s and plywood make a stop block like the one given in the picture below and screw a knob in place. You can now slide it from side to side depending on your measurements.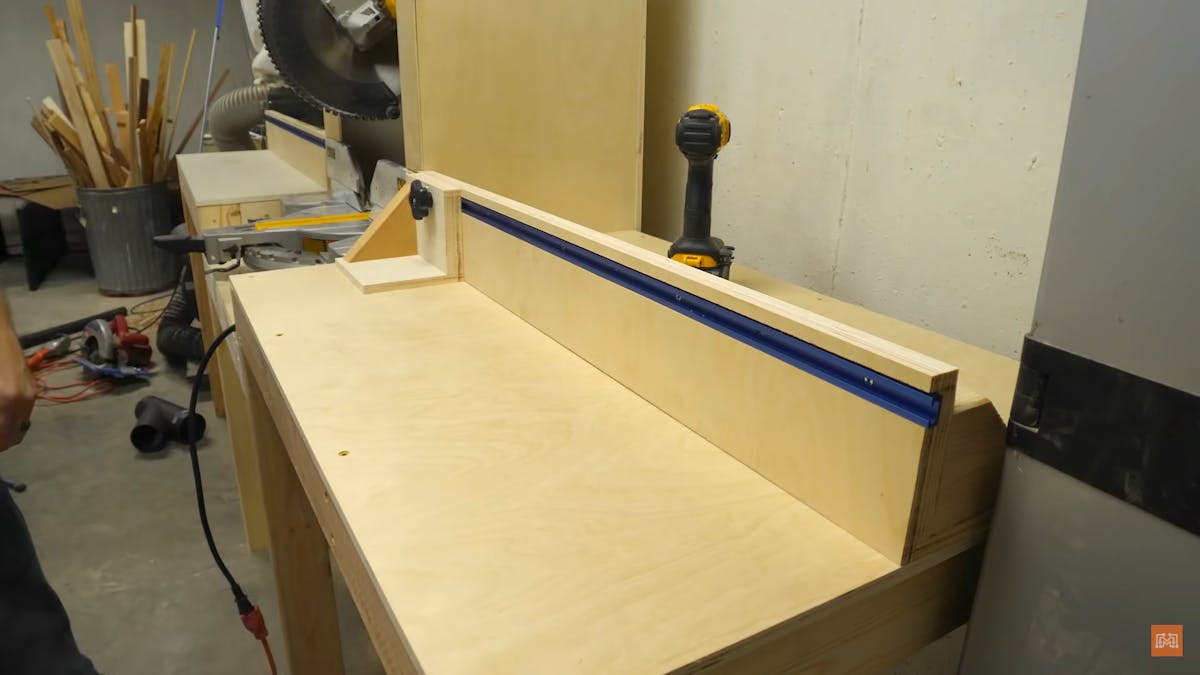 Your miter saw station is now complete! This much-needed addition will make your workspace so much more functional and neater. If you want you could even add some shelves and drawers to the bottom of this station as you have a lot of space to work with. You can even go the extra mile and decorate it to jazz up your workspace even more. Enjoy your latest creation!
Subscribe to our Newslatter
Sign up for free and be the first to get notified about new posts.